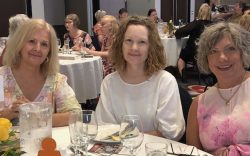 The Zonta Club of Wynnum Redland Inc is located in Queensland's south east, with our club area stretching from Wynnum Manly to the Redlands Coast.
While there are a number of attractive centres in our area, Raby Bay Cleveland is our chosen meeting location. We meet for dinner at 6:00 pm for 6.30 pm on the second Monday of the month at the Raby Bay Harbour village. You are most welcome to join us! Guests and prospective members are requested to contact us for all details.
The club has a long and strong history. It was officially chartered on 25 September 1981, and we are proud that a number of our charter members maintain regular connection with the club. Our membership is just under 20 fabulous women. Our demographic includes both younger and more mature members, and we are known as a particularly welcoming and inclusive club.
Each year we host two to three gala charity events, for which tickets are in demand. Many of our members have come to know us first through attendance at our events – and people around Brisbane regularly mark their calendar to save our dates!
Our Club supports a number of local and international initiatives which align with Zonta International's core values. Projects include:
promoting awareness of the issues around gender equality, through signage, events and community occasions
raising community awareness with our annual Public Forums about Modern Slavery, Keeping our Children safe online and around issues of Family and Domestic Violence.
sustain educational programs to raise awareness of respectful relationships – courses are delivered to young men and women students through local high schools in Wynnum and the Redlands
 providing financial assistance to  organisations such as the Maybanke Association and Silky Oaks Family Support Program
helping women going through breast cancer treatment with the provision of specialist breast care cushions and drainage bags
support ongoing advocacy at the United Nations and the on ground work in developing countries, through our affiliation with Zonta International
A number of events through the year underpin these initiatives, including public forums, a charity luncheon, an International Women's Day dinner in conjunction with the announcement of our YWPA winner and Spring Racing functions held each year in November.
We'd love to meet you and look forward to seeing you at our next event!
For more details about our club, contact the President: Loris Neff Phone: 0466 082 002 or by Email