Zonta Clubs around the world unite for 16 Days of Activism, 25 November to 10 December each year, to highlight the Zonta International Campaign to eliminate violence against women and girls. 25 November each year is the United Nations Day for the elimination of violence against women and 10 December, United Nations Day for Human Rights
In the lead up to and during the 16 days of action, clubs take to the streets of their neighbourhoods, towns and cities organising a wide range of "orange events" to emphasize the importance of individual and community activism to end violence
WHY THE COLOUR "ORANGE"?
The United Nations Secretary-General's Campaign UNiTE to End Violence against Women has proclaimed the 25th of each month as 'Orange Day', a day to raise awareness and take action against violence against women and girls.
WHAT ARE THE KEY MESSAGES OF THE CAMPAIGN?
Both men and women experience substantial levels of violence;
Domestic, Family and sexual violence is overwhelmingly committed by men against women;
The majority of people who experience domestic violence are women; and
DV knows no boundaries and occurs in all strata of society.
A special emphasis in the 2020-2022 Zonta Biennium is raising awareness of the incidence of Child Marriage.  Whilst often this is thought of in terms only of developing countries or based on religious customs and beliefs despite Australia having laws prohibiting marriage for minors under 18 years of age without parental and court permission child marriage does occur in Australia.
We need to change our attitude about women and our behaviour to build respectful and positive relationships.
WHAT ACTIONS DO CLUBS TAKE?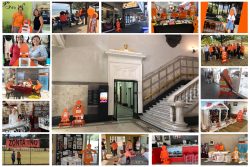 Placement of "Orange" women (plywood cut outs) in prominent locations e.g. businesses, ferry terminals, libraries etc. These silhouettes have information on violence against women as well as safety information for victims of domestic violence.
Hold functions with special guest speakers to provide information and statistics on the incidence of domestic and family violence and the support services available to victims of violence.Print and distribute community Information (Safety Cards) with emergency phone numbers for those who may be in a violent situation
Displays in Libraries, shopping malls and sporting venues during November/December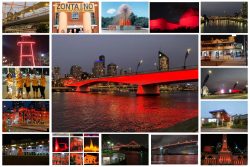 Sponsor the training of facilitators to conduct the school based "LoveBites" program which covers respectful relationships
Ask Government and Councils to support the campaign by lighting buildings and bridges orange during the campaign
SEEK PUBLICITY DURING THE CAMPAIGN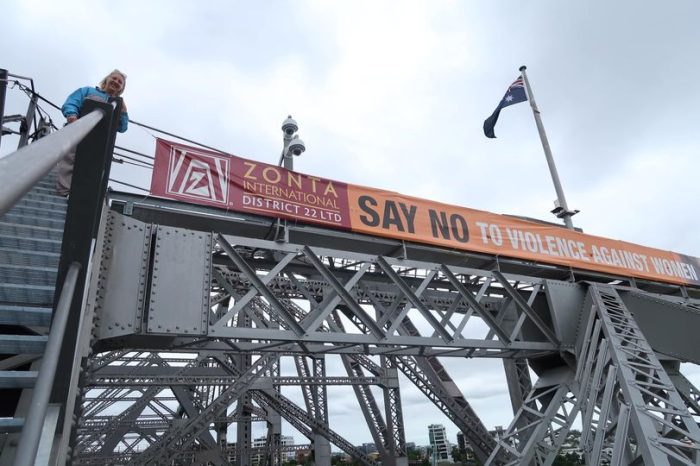 2022 ACTION- THIS LIST IS BEING UPDATED AS EVENTS/ACTIONS ARE ADVISED
Brisbane
A major fellowship and advocacy walk on 22 November (subject to COVID-19 restrictions) through the streets of Brisbane to highlight the campaign.  Zontians, friends (including four-footeds on leashes) and the wider community are invited to attend this Advocacy and Fellowship walk commencing from King George Square at 6.00 pm.    The full walk should take between 1.and 1.5 hours and the half walk 2.3km about 30-45 minutes.
21 November 2022 – "Paint the Bayside Orange" Breakfast with Guest Speaker, Wynnum Manly Leagues Club
21 November -2 December 2022 – Zonta Says NO Banner hung across the Story Bridge inbound
22-24 November 2022 – Sandgate Town Hall lit orange
22 November 2022 – City Hall and King George Square lit orange
21-25 November 2022 – LightBox in King George Square
22 November 2022 – Zonta Says NO Walk around the City commencing from King George Square at 6.00pm followed by fellowship at the Pig and Whistle, King George Square
22-24 November 2022 – Story Bridge lit orange
22-24 November 2022 – Victoria Bridge lit orange 22-24 November 2022 – Breakfast Creek Bridge lit orange
22-24 November 2022 – Wickham Terrace Car Park lit orange
21-26 November 2022 – Kurilpa Bridge lit orange
22-24 November 2022 – Story Bridge lit orange
24 November – 10 December 2022 – Sir Leo Hielscher Bridges lit orange
22-24 November 2022 – Reddacliff Place sculptures lit orange
22-24 November 202 – Treasury Casino lit orange
3 December 2022 – Day of activities at the Judith Wright Centre organised by Chrysalis Projects
Bowen
Post for 16 days a ZSN message on club's Facebook page
25 November -10 December 2022 – Banners displayed
Static display of ZSN materials in prominent town window location
Movie night "In Time of the Butterflies"
Bundaberg
26 November 2022 – Brunch at 9.30am-12pm Campaign launch at The Waves Club Bundaberg
Following Brunch Zonta Says NO walk  around soccer ground adjacent to The Waves Club
Lighting of the Fig Trees, Multiples Centre, Auswide Bank in Orange
Produce Zonta Bundaberg 16 Days of Activism Magazine
Zonta Bundaberg 2022 16 Days of Activism Magazine
25November-10 December 2022 – Visit our Facebook page for releases
Burdekin
Banner displayed on St Francis' school on main highway
Water in the fountain on main street turned orange
Photos taken in participating local businesses with orange lady cut out. The business owners will hold a sign showing their support for the Zonta Says No campaign
Article with photos in the local newspaper during the 16 Days of Activism
Cairns
14 November 2022 – Banner at the Health & Well Being Expo, Bentley Park College
25 November -10 December – Banner display Cairns City Council Library & The Raintrees Library
Displays in all libraries across Cairns region from Mossman to Gordonvale
Media messages across neon signs in  front of Joe Vella's Insurance Office and The Jack
Distribution of information and safety packs to Youth Support Co-Ordinators
Displays in hairdressers  and coffee shops
Brochure display in Breast Screen Cairns
Orange silhouettes displayed at Hambledon House and Bentley Park College
Interview on community radio
Social Media campaign
Ipswich
24 November 2022 Capaign Launch, Tulmur Place with speaker and invited dignities
Council Building in Nicholas Street lit orange
Red Bench placed in Tulmur Place
Northern Rivers
Banner on the Bruxner Highway in Lismore
20 orange silhouettes displayed in shops, business and cafes
Social media campaign
Redcliffe
21 November – 11 December 2022 Banners displayed at Redcliffe Youth Space Cnr Anzac Ave and Oxley Ave Redcliffe; Bi-Centennial Park Hornibrook Esp Clontarf; Mango Hill Light Horse Monument – Anzac Ave Mango Hill and John Neumann Hall Deception Bay Rd Deception Bay
25 November – 10 December 2022  Redcliffe Administration Building; Caboolture Hub; Humpybong Fountain; Scarborough Beach Park and Various Trees around the Peninsula lit orange
November 25 – Breakfast, The Komo, Natalie Hinton (Tara Brown Foundation)
December 10 – Flag raising ceremony -Redcliffe Administration Building
25 November – 10 December 2022 Displays in Redcliffe Library, Deception Bay Library, North Lakes Library and orange silhouettes in various businesses
Social media campaign involving businesses and individuals
Rockhampton
Orange lighting of heritage buildings in Rockhampton
Orange lighting of structures on the Capricorn Coast
ZSN banners hung in strategic positions in Rockhampton
Distribution of 'The Little Book of Healthy Relationships " – a booklet with information about DFV, produced in conjunction with CQ Healthy Families
24 November 2022 Event at the Blue Illusion store in Stockland shopping centre
Social Media campaign
Toowoomba
25 November-10 December 2022 Zonta Says No banner to be displayed over Margaret St
Victoria Street Bridge lit orange 25-10 December 2022
16 white ladies with message will be displayed in business houses and this year with white veils advocating the message: Girls not Brides Zonta Says No to Child Marriage.
Flag Raising ceremony to be held on 9 December 2022 from 7am to 8.30 am on the Village Green, Ruthven St, Toowoomba to commemorate Human Rights Day.
Wynnum Redlands
Cleveland Lighthouse lit orange
30 November 2022 – handing out information at Cleveland Train Station
7 December 2022 – handing out information at Manly Train Station
To find out more about this global campaign visit the Zonta Says No website.