Zonta Clubs around the world unite for 16 Days of Activism, 25 November to 10 December each year, to highlight the Zonta International Campaign to eliminate violence against women and girls. 25 November each year is the United Nations Day for the elimination of violence against women and 10 December, United Nations Day for Human Rights
In the lead up to and during the 16 days of action, clubs take to the streets of their neighbourhoods, towns and cities organising a wide range of "orange events" to emphasize the importance of individual and community activism to end violence
WHY THE COLOUR "ORANGE"?
The United Nations Secretary-General's Campaign UNiTE to End Violence against Women has proclaimed the 25th of each month as 'Orange Day', a day to raise awareness and take action against violence against women and girls.
WHAT ARE THE KEY MESSAGES OF THE CAMPAIGN?
Both men and women experience substantial levels of violence;
Domestic, Family and sexual violence is overwhelmingly committed by men against women;
The majority of people who experience domestic violence are women; and
DV knows no boundaries and occurs in all strata of society.
A special emphasis in the 2020-2022 Zonta Biennium is raising awareness of the incidence of Child Marriage.  Whilst often this is thought of in terms only of developing countries or based on religious customs and beliefs despite Australia having laws prohibiting marriage for minors under 18 years of age without parental and court permission child marriage does occur in Australia.
We need to change our attitude about women and our behaviour to build respectful and positive relationships.
WHAT ACTIONS DO CLUBS TAKE?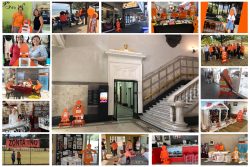 Placement of "Orange" women (plywood cut outs) in prominent locations e.g. businesses, ferry terminals, libraries etc. These silhouettes have information on violence against women as well as safety information for victims of domestic violence.
Hold functions with special guest speakers to provide information and statistics on the incidence of domestic and family violence and the support services available to victims of violence.Print and distribute community Information (Safety Cards) with emergency phone numbers for those who may be in a violent situation
Displays in Libraries, shopping malls and sporting venues during November/December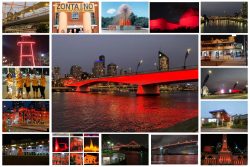 Sponsor the training of facilitators to conduct the school based "LoveBites" program which covers respectful relationships
Ask Government and Councils to support the campaign by lighting buildings and bridges orange during the campaign
SEEK PUBLICITY DURING THE CAMPAIGN 
Article in Bundaberg Today 29 October 2021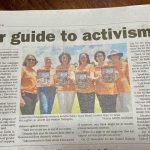 Article on Bundaberg Today re ZSN Magazine Launch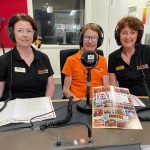 ABC Radio Wide Bay Interview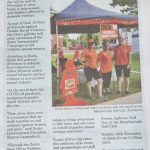 Maryborough Sun – Promotion of ZSN Charity Golf Day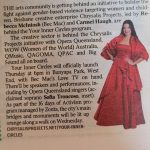 Article in The Courier Mail 24 November 2021
CLUB ACTIVITIES DURING THE 2021 CAMPAIGN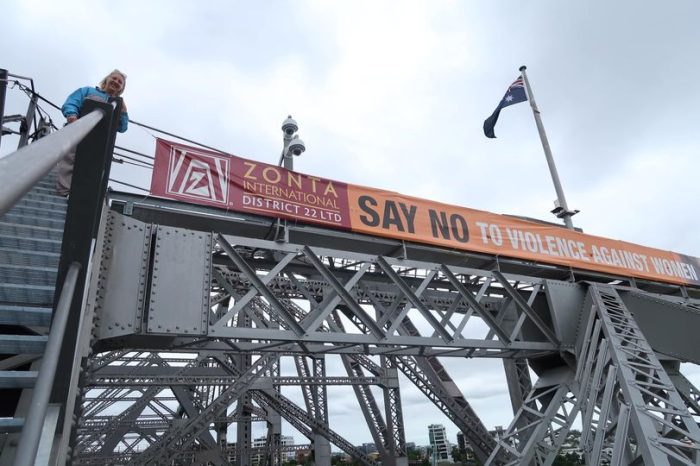 Brisbane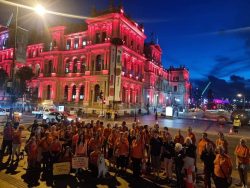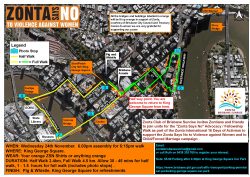 A major fellowship and advocacy walk on 24 November (subject to COVID-19 restrictions) through the streets of Brisbane to highlight the campaign.  Zontians, friends (including four-footeds on leashes) and the wider community are invited to attend this Advocacy and Fellowship walk commencing from King George Square at 6.00 pm.    The full walk should take between 1.and 1.5 hours and the half walk 2.3km about 30-45 minutes.  Potential photo stops are marked on the attached map.
21-25 November 2021 – Sandgate Town Hall lit orange
22 November -5 December 2021 – Zonta Says NO Banner hung across the Storey Bridge outbound
22-24 November 2021 – City Hall and King George Square lit orange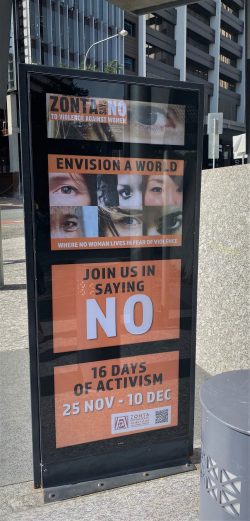 22-26 November 2021 – LightBox in King George Square
24 November 2021 – Zonta Says NO Walk around the City commencing from King George Square at 6.00pm followed by fellowship at the Pig and Whistle, King George Square
22-24 November 2021 – Story Bridge lit orange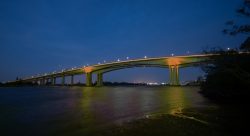 22-24 November 2021 – Victoria Bridge lit orange
23-24 November 2021 – Kurilpa Bridge lit orange
22-24 November 2021 – Story Bridge lit orange
24 November – 10 December 2021 – Sir Leo Hielscher Bridges lit orange
22-24 November 2021 – Reddacliff Place sculptures lit orange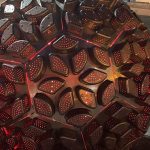 22-24 November 2021 – Treasury Casino lit orange
23 November 2021 – "Paint the Bayside Orange" Breakfast with Guest Speaker, Wynnum Manly Leagues Club
25 November 2021 – ZSN Breakfast at Pilpel Restaurant, Redcliffe
30 November -2 December LoveBites Trauma Informed Facilitator training (fully booked)
2 December 2021 – Breakfast at The Greek Club, South Brisbane – Women in Action – an Orange the World – 16 days of Activism Against Gender Based Violence 
6 December 2021 – Webinar – Women in Action with Guest presenter Jonty Bush MP  Tickets @ https://zontatickets.com.au/event/14850
2021 Actions
Biloela
25-10 Dec – orange women silhouettes placed in shopping world and Main street of shops. The Orange Women silhouettes will have some info graphics about different types of violence, which will change every few days. The orange woman in the shopping centre will be there for the entire 16 days the other will move around about 4 of the shops in the street over the period of time.
Conduct  a 'selfie competition' to engage the public with 4 x $10 vouchers up for grabs for the local coffee shops.  The public are being asked to take a photo with the silhouette in Kariboe Street and post it to the Club FB page along with a comment from each on why they feel this awareness is important
All graphics and other online material will be shared on online throughout the 16 days.
Blackall Range
At the beginning of 2020, Zonta Blackall Range joined with other local service clubs (Quota, Rotary and Lions) to establish a local focus for the fight against domestic and family violence through a committee called SPEAK UP NOW. The work of SPEAK UP NOW is ongoing and we will be committing our action for Zonta Says No to this campaign. At any functions during that time, we will use our Zonta Says No banner.
Distributing stickers to public women and men's toilets with details of phone numbers for women to ring in case of domestic violence.
Bowen
Post for 16 days a ZSN message on club's Facebook page
Promote Jessica Hill's book "Look what you made me do" and Lydia Gah's book "Survive and Thrive"
Static display of ZSN materials in prominent town window location
Order of 15 small orange Zollies to be used in displays
Update of ZSN posters, maintenance of old posters and placement of posters in new locations
Display ZSN banner on prominent shopping centre fence
Providing an additional 6 roses to our public Zonta rose garden
An awareness presentation of UN Human Rights Day at our Dec Xmas function on 9 December 2021
Bundaberg
25 November 2021 at 5.30pm Campaign launch at Buss Park and 6.00 pm lighting of the Fig Trees orange on Walker Street & Lighting of the Wide Bay Australia building in Orange
Produce Zonta Bundaberg 16 Days of Activism Magazine
Zonta Bundaberg 2021 16 Days of Activism Magazine
26 November 2021 – Visit our Facebook page for a book list of Domestic & Violence topics supplied by the Bundaberg Library
27 November 2021 – dress in Orange and join the Zonta Club as we participate in Parkrun at Queens Park (off Hope Street)
Remembrance display at the Bundaberg Library remembering the number of women and children who have died in the past 12 months due to family and domestic violence
1 December 2021 -join us at Alowishus to have a cup of coffee and "pay one forward" to someone in need
4 December 2021 – 9.30 – 11.30am – the Zonta Club of Bundaberg and other community-based organisations invite you to visit the Pavilion in the CBD to find out more about the issue of domestic family violence, elder abuse, gender equality and resources available.
Let's Orange Bundaberg by wearing something Orange.
Visit our Facebook page daily for links to Senior Constable Brittany Duncan Bundaberg District Crime Prevention Unit, Queensland Police as she hosts a presentation on the 'ThinkUKnow' cyber safety program; Zonta International advocacy series presentation on 'Gender-based violence and cyberbullying, a a presentation by Caroline Rundle – Domestic Violence Women's and Children's Counsellor at EDON Place and much more information and resources.
Burdekin
Furnished the interview room  and the waiting room at the Ayr Police Station to be more friendly – added pictures, plants, display bench  for pamphlets to the interview room  and added pillows, plants and toys  to the waiting room.
25 November through 10 December display in the Ayr Library with Zonta information pamphlets, 16 days of Activism information posters, a display of 2 red boxes with red shoes and the names of women who have died, 1 blue box with blue shoes for the men and 1 white box representing the children who have died  due to DV.
Orange women silhouettes on display. `
Postings on Facebook
Orange figures in libraries and businesses in the Moreton Bay area
26-28 November 2021 – stand in Morayfield Shopping Centre
Cairns
In partnership with The Cairns City Council there will be: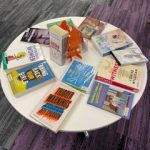 A library display in all libraries from Babinda to Mossman + banner in the main city library
An orange light display in The Parklands
Media release: one message per day
Pamphlets, bookmarks, zollies to be displayed in:
The waiting room of Breast Screen Australia 
Hairdressers
JCU
TAFE
Cairns State High School + banner
Bentley Park High School
Charters Towers
Orange lighting at City Hall
Photo at City Hall on 17 November 2021 with Councillors
"Zonta Says No" banner & display at Excelsior Library
Window display at Titley's department store
Orange silhouettes on top veranda at Police Station
Release of DV wallet cards
Publicity through The Northern Miner
Daily Face Book posts
Gladstone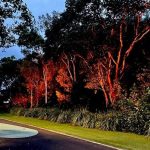 Launch event at Library Square and orange walk down to East Shores Parklands (lit orange) on Thursday 25th November 2021 from 6pm
Mass display of orange ladies at 2 locations in Gladstone with Zonta Says No signs and display of the number of of deaths due to domestic violence to date.
6 Freestanding orange ladies move around the Gladstone area to different businesses, sharing our message with a social media campaign
Orange the town – encouraging industry and businesses to light up orange and display our Zonta Says No signs
This year we are inviting 4 of our local high schools to turn orange for a day
Zonta members Orange Breakfast at Auckland House
Gold Coast
Paradise Point
16 Orange women placed in strategic positions throughout the area
16 November 2021 – Campaign launch and Webinar
25 November 2021 – Isle of Capri Bridge lit orange
25November – 10-1 December 2021 – Broadbeach Sign, Victoria Park, Broadbeach, Horse Sculpture, Victoria Park, Broadbeach, Catenary Lighting in Surf Parade, Broadbeach lit orange
Feature article/photos in Gold Coast Bulletin
Southern Gold Coast Tweed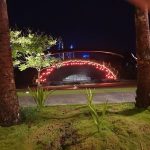 25 November 2021 – Gold Coast City Home of the Arts (HOTA) Building lit orange
Hervey Bay
Placement of orange ladies in strategic locations
Social media campaign
Boho event (details to follow)
Ipswich
Launch, Limelight Cinemas, showing the film Seven Times 
Large billboard in Ipswich to display Ipswich Zonta and the Orange Ladies
Birthing kits assembly day with Ipswich Girls Grammar
Ipswich City Council Chambers to be lit in orange from 25 November to 30 November 2021
Orange Ladies to be displayed in businesses throughout Ipswich
Activities with DVA
Longreach 
3 large Orange ladies and 5 small orange ladies displayed at various retail outlets in the main street
Maroochy
25 November -10 December 2021 placing our Orange silhouettes around the community
Use Facebook page to promote 16 day theme and to post photos of our Orange silhouettes
Have a community display at the Sunshine Coast University Hospital on the 9th  December 2021 9.00am -3.00pm
Maryborough
The City Hall lit up in orange and the Digital Board in the CBD will display the 16 Days of Activism, Zonta Says No message
Orange ladies with relevant messages and help line are being placed in local businesses
The Zonta Say No Banner will be moved every second day to a prominent position in the main streets of our city.
The 4 senior schools/colleges are partnering with the Club to raise the profile to a younger demographic.  The schools are having a free dress day on 4 consecutive days – dressing in orange and having a gold coin collection. The school will choose the organisation to give the funds to in line with Zonta aims. Each school has come up with their own unique way of promoting the day and are doing different things for example one school is lining their students up in the word "NO", whilst another is using their drone to fly over the students in the oval
28 November 2021 – Charity Golf Day, Maryborough Golf Club – cancelled due to bad weather

Mount Isa
ZSN Breakfast 19 November 2021
Noosa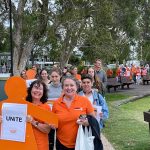 28 November 2021 Zonta Noosa Walk & Candlelight Vigil start 5.30pm from River Stage Lions Park
Northern Rivers
ZSN Banner displayed on roundabout near Bunnings, Ballina
A walk in Ballina (subject to COVID restrictions)
Northside
 November 7 – Zonta International Day and Breast Care Cushion Workshop Afternoon Tea 'Wear Orange in support of Zonta Says No Campaign', Sunday 7 November, 2pm-5pm
November 25 – December 10, Digital Billboard 'Zonta Says No' partnering with The Salvation Army Brisbane North Church, cnr Handford Rd and Roghan Rd Taigum
November 27 Stall at Carseldine Markets, Beams Rd Carseldine
November 25 – November 30, 'Zonta Says No' display at the Bracken Ridge Plaza Shopping Centre
December 7, 'Zonta Says No Campaign Acknowledgement and Report' at Zonta Northside Christmas Dinner, The Bracken Ridge Tavern, 6:30pm
Pine Rivers
Two large Zonta Says No banners that will be displayed during the 16 days at either end of the Pine Rivers District within the Moreton Bay Regional Council area. One will be displayed near the entrance to Sunshine Coast University (Petrie Campus). The other at Leslie Dawson Park, Arana Hills.
Club members will take part in the social media campaign devised by the Zonta Club of Brisbane Inc Brisbane Club. Their photos, holding the poster with a personal message about gender based violence, will be displayed on the club's Facebook page.
Ten Christmas Hampers will be prepared for distribution to families through CADA (Centre Against Domestic Abuse) based in Strathpine.
Pine Rivers Club members will represent the club by attending the following: Wednesday November 24 2021 Evening Walk around Brisbane City; Thursday November 25 – Zonta Club of Redcliffe Breakfast with Small Steps 4 Hannah and December 2 – Women in Action against Gender Based Violence Breakfast at the Greek Club.
Redcliffe
25 November 2021 – ZSN Breakfast, Pilpel Restaurant, Redcliffe.
November 25 – December 10 – Moreton Bay Regional Council properties lit up in Orange – Redcliffe Administration Centre, Caboolture Hub, Humpybong Fountain and seating at Scarborough Beach Park
November 22 – December 12 – Zonta Says No banners hung on three Council Banner Poles – Youth Space Redcliffe, John Neumann Hall Deception Bay, Light Horse Memorial Mango Hill.
November 25 – December 10 – Display at Redcliffe Library , Orange Ladies, with True but Anonymous stories, Information etc.
November 25 – December 10 – Orange ladies in various local businesses
December 18 – DV Awareness Match with Brisbane Roar – A League Women 4.05pm, A League Men 6.45 pm at Moreton Daily Stadium, Redcliffe. Guard of Honour with Members in Orange Shirts, holding Orange Ladies and Banner – Information Stall and Give Away Items
Launch of a Red Bench – Date to be advised
Rockhampton
24 November 2021 Campaign Launch @ The Boathouse
25 November – 10 December Orange lighting of the heritage façade buildings in Quay St
25 November – 11 December Display at Rockhampton South Library
24 November – 14 December  ZSN banner displayed at RRC site Colts Ruby Union, opposite Kershaw Gardens (busy highway)
Orange ladies positioned in various businesses – Bluebird Sports Club, Paint Inspirations, CQ Agencies
22 November – Stall at Arcade Markets
Capricorn Coast:
25 November – 10 December – Orange lighting of the Yeppoon foreshore lights, Wreck Point Lookout & Singing Ship Emu Park
Display at the Yeppoon library
24 November – 8 December ZSN banner hung in Beaman Park, Yeppoon CBD
Orange ladies at Paint Inspirations
Stanthorpe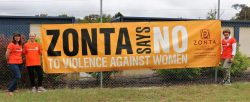 Banner displayed in town
Orange silhouettes in prominent places
Assembling Pamper Pack in the Piazza
Participating in the Stanthorpe Fun Run
Toowoomba
Participate in the 'Reclaim the night' march organised by DVAC Ipswich and Toowoomba wearing our Zonta badges and Scarves on 29th October 2021.
The local bridge will be lit up orange from the 15th November until the 10th December 2021
Zonta Says No banner to be displayed over Margaret St
Victoria Street Bridge lit orange 25-30 November 2021
Attend the 'White Ribbon' event on the 19th November 2021 wearing white, Zonta scarf and badges
Printed posters placed on the back of toilet doors in local shopping centres with contact information for local domestic violence support services
Sausage Sizzle on Nov 20th creating awareness of the campaign and raising funds for ZI and 16 days campaign. Honzons and member will wear orange caps and aprons with wording Zonta Says No
Printed postcards placed in local shops and cafes with domestic violence contact information on the back and a painting done by one of our club (Toowoomba Garden City)  members depicting Zonta women supporting others on the front
19th November participate in Toowoomba's White Ribbon Day community event
16 white ladies with message will be displayed in business houses and this year with white veils advocating the message: Girls not Brides Zonta Says No to Child Marriage.
Nov 25 2021 in conjunction with Amnesty International, Toowoomba branch encourage members and public to attend 3rd instalment of Jess Hill's documentary "See what you made me do " to follow with discussion on solutions to DV problems in the community. Location St James Anglican Parish Hall cnr James and Ruthven St from 6pm
Red shoe display to commemorate Remembrance day in a couple of local businesses and will stay up for the duration of 16 days of activism
Information stall 8th December at Grand Central shopping centre
Wear orange on Friday the 26th November 2021
Members are encouraged to take photos or videos at each of these activities and share on our Zonta closed facebook page. The media coordinator will promote a selection/compilation on our open facebook page
Members and Public encouraged to tie an orange ribbon and/or orange balloons during the campaign, especially on December 4th
4 December,  Day of Awareness encourage chalk art to create awareness of the campaign
Flag Raising ceremony to be held on December 10th from 7am to 8.30 am on the Village Green, Ruthven St, Toowoomba to commemorate Human Rights Day.
Engage media and public to create awareness and to participate in activities.
Townsville
ZONTA Says NO to Violence – Eye Banner to be hung at the undercover Car  Park Entrance to the Cowboys Leagues Club for the duration of the 16 Days (25 November -10 December 2021)
Townsville City Council Assets to be lite "Orange" from 25th November 2021 for one week.
Large "Orange" banner ZONTA Says NO to Violence Against Women will be hung on the pedestrian fence behind the "Townsville" sign during the orange nights.
Queensland Country Bank Stadium lights to be turned "Orange" on the 25th November 2021
Display to be mounted at the Community Information Centre in Flinders Street, the City from 25 November -10 December 2021
Using a Clothesline with new Bras (instead of shoes) to indicate the number of women murdered during the 2021 year due to Domestic Violence. The bras will be donated to the Domestic Violence Resource Centre after the 16 Days for passing on to women in need.
Socks will be used for the indication of children that have been murdered due to Domestic Violence during the 2021 year.
Large "Orange" Ladies will be used in display at the Townsville Community Information Centre, at a Hairdressers
Warwick
6 orange silhouettes placed around town  with one each also going around Allora and Killarney
The Southern Downs Regional Council has set up 2 Red Benches, one in Stanthorpe and the other in Warwick and plan to have orange silhouette sitting on the bench some of the time
The orange silhouettes will hold our locally printed DV information cards and other brochures.
Planning to draw a fund raising Top to Toe  raffle at one of the contributing businesses that hosts and orange lady and use this as publicity.
The Whitsundays
Distribution of wallet size fold out card containing a comprehensive list of contact numbers for services that women and girls may need
Orange ladies will again be present at several locations around Airlie Beach and Cannonvale
Zonta banner will be displayed on the Bill Board on Airlie Hill
Zonta e-Club of Queensland
Display at BRT Entertainment Centre
To find out more about this global campaign visit the Zonta Says No website.