Zonta Clubs around the world unite for 16 Days of Activism, 25 November to 10 December each year, to highlight the Zonta International Campaign to eliminate violence against women and girls. 25 November each year is the United Nations Day for the elimination of violence against women and 10 December, United Nations Day for Human Rights
In the lead up to and during the 16 days of action, clubs take to the streets of their neighbourhoods, towns and cities organising a wide range of "orange events" to emphasize the importance of individual and community activism to end violence
WHY THE COLOUR "ORANGE"?
The United Nations Secretary-General's Campaign UNiTE to End Violence against Women has proclaimed the 25th of each month as 'Orange Day', a day to raise awareness and take action against violence against women and girls.
WHAT ARE THE KEY MESSAGES OF THE CAMPAIGN?
Both men and women experience substantial levels of violence;
Domestic, Family and sexual violence is overwhelmingly committed by men against women;
The majority of people who experience domestic violence are women; and
DV knows no boundaries and occurs in all strata of society.
A special emphasis in the 2018-2020 Zonta Biennium is raising awareness of the incidence of Child Marriage.  Whilst often this is thought of in terms only of developing countries or based on religious customs and beliefs despite Australia having laws prohibiting marriage for minors under 18 years of age without parental and court permission child mariiage does occur in Australia.
We need to change our attitude about women and our behaviour to build respectful and positive relationships.
WHAT ACTIONS DO CLUBS TAKE?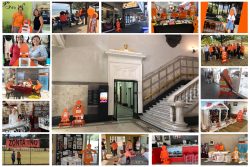 Placement of "Orange" women (plywood cut outs) in prominent locations e.g. businesses, ferry terminals, libraries etc. These silhouettes have information on violence against women as well as safety information for victims of domestic violence.
Hold functions with special guest speakers to provide information and statistics on the incidence of domestic and family violence and the support services available to victims of violence.Print and distribute community Information (Safety Cards) with emergency phone numbers for those who may be in a violent situation
Displays in Libraries, shopping malls and sporting venues during November/December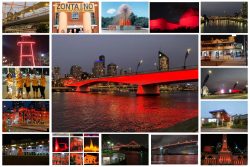 Sponsor the training of facilitators to conduct the school based "LoveBites" program which covers respectful relationships
Ask Government and Councils to support the campaign by lighting buildings and bridges orange during the campaign
SEEK PUBLICITY DURING THE CASE AND PROVIDE INFORMATION TO THE GENERAL PUBLIC 
In 2019 this included the following: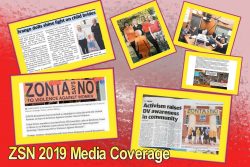 Post on Brisbane Circle Facebook page
Article and photo in the Queensland Times 16 November 2019
Media article & Photo in the Gladstone Observer
Radio interview Radio 102.7 Toowoomba
Article & Photo in the Beaudesert Times
Fraser Coast Chronicle 2 December 2019
CLUB ACTIVITIES DURING THE 2019 CAMPAIGN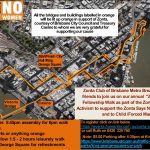 Brisbane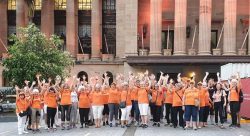 A major fellowship and advocacy walk was undertaken through the streets of Brisbane to highlight the campaign.  Zonians, friends (including four-footeds on leashes) and the wider community were invited to attend this Advocacy and Fellowship walk commencing from King George Square at 5.45 pm on Monday 18 November. At the end of the walk there was time for fellowship and discussion at the Pig and Whistle.
25 November -7 December 2019 – Zonta Says NO Banner hung across the Turbot Street Overpass
19 November and 25 November -10 December 2018 – Sir Leo Hielscher Bridges lit orange
18 November 2019 – City Hall and King George Square lit orange
18 November 2019 – Zonta Says NO Walk around the City commencing from King George Square at 6.00pm followed by fellowship at the Pig and Whistle, King George Square
18 November 2019 – Sir Leo Hielscher Bridges lit orange
18-19 November 2019 – Story Bridge lit orange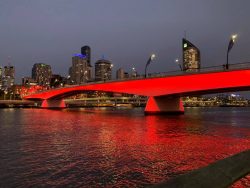 18-19 November 2019 – Victoria Bridge lit orange
18-19 & 25 November 2019 – Kurilpa Bridge lit orange
18-19 November 2019 – Treasury Casino lit orange
18-23 November 2019 – Tropical Dome lit orange
25 November – 10 December 2019 – Sir Leo Hielscher Bridges lit orange
25 November-10 December 2019 – Large Zonta Says NO Banner South Brisbane TAFE, cnr Merivale Street, South Brisbane
24 November 2019 – DV Walk, Sausage Sizzle and Zonta stall, Love Street Park, Bulimba
25 November 2019 – "Paint the Bayside Orange" Breakfast with Guest Speaker, Wynnum Manly Leagues Club
Blackall Range
Distributing stickers to public women toilets with details of phone numbers for women to ring in case of domestic violence.
Caboolture
Zonta Says NO Banner at Centenary Lakes and another at in the city business area;
Featured, staffed display of a family of Orange figures together with information wallet cards, pamphlets and give away ZSN orange caps at the Morayfield Shopping Centre over three days [weekend] during the campaign.
Orange figures together with information packs at many local libraries, businesses and Health Centres.
Publicity of the campaign and Child Marriage issues via the Club's monthly spot on the local radio station.
Charters Towers
Displays in shop window displays
Display banner and use of electronic notice board displays
Distribute educational material handouts
Dalby
22 November – Breakfast at BMO
Display yellow women silhouettes throughout the business centre
Gladstone
24 November – An Orange Breakfast to launch the 16 Days. Zontians wore orange and information was displayed about the 16 days, 'Zonta Says No' banners, and five Zonta Orange Women silhouettes.
Orange Silhouettes: The silhouettes were be dressed in generic school uniforms, and wore veils, to visually represent the importance of girls being students, not brides and the risk that early marriage poses, to education. Signs on the silhouettes to assisted with the message.
The five silhouettes were displayed by various organisations and businesses during the 16 Days (one at each place). The silhouettes were displayed at many different locations during the 16 Days as can be seen from the photos atttached.
Social Media: each of the businesses/organisations were offered an opportunity to have a photo of staff with the silhouette (and usually their logo), and the photos posted on the Gladstone Club facebook page, with a tag to the business/organisation where possible, to increase engagement with the post, and to acknowledge and thank the business/organization for supporting the campaign. The posts included various messages about the campaign and the hashtags #ZontaSaysNo #EndChildMarriage #16Days #ZontaClubGladstone
Media coverage of the Orange Breakfast and the campaign was sought.
Gold Coast (Southern Gold Coast Tweed)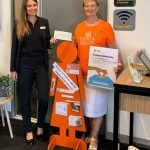 Library display
Orange silhouettes displayed in businesses
Hervey Bay
9 November – a celebration was held at the Hervey Bay Marina Arcade and Gallery
Seat painted orange with Zonta logo on it.
Ipswich
23 November Funcrion to launch of the 16 Days of Activism with a picnic in Queen's Park. The park is on a very busy road into the CBD of Ipswich. Orange ladies and banners were placed along the footpath and Club members were dressed in their orange ZSN shirts.  Invitations to attend were sent to state and federal representatives, DVAC, the local police and other agencies
25 November businesses sponsoring a silhouette had them placed in varying locations.
Longreach
25 November – 10 December Iconic water tower lit orange
Article in local media
Orange women silhouettes in local businesses
Mackay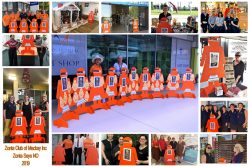 Mackay Regional Council fountain and lights on council building were be turned orange from 02.12.2019 to 08.12.2019
A social media campaign was run with local businesses having local businesses hosting a 1 metre tall orange lady each day of the 16 days. This was be shared on the businesses Facebook page and the Zonta Club Facebook page
Maroochy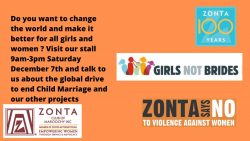 Letter writing campaign to local paper to raise issues such as Gender Based Violence and Child Marriage
Staffed a stall Sunshine Plaza, Maroochydore on Saturday 7th December
Social media campaign using Club Facebook page to highlight issues.
Maryborough
Camp out to raise awareness of DV and homelessness
Mount Isa
Displays of orange women silhouettes and banner
Noosa
Annual awareness walk along the Noosa River on Sunday 24 November to kick off 16 days of activism
Displays in the local library and posters printed, which were placed in the cubicle doors of council operated public restrooms
Northern Rivers
Zonta Says No banner was hung in a prominent position on the Bruxner Highway in Alstonville. On the fencing adjacent to the main sporting fields in town
Northside
13 November – A business breakfast was held at The BRT (Bracken Ridge Tavern, 6.30 for 7am to 8.30am. 
Both the Sandgate Town Hall and The BRT were lit orange this year.
Pine Rivers
10 December Christmas Gift Wrapping at Strathpine Shopping Centre wearing Zonta Says NO shirts and aprons
Held a public Zonta breast cushion making event where members of the public at a local shopping centre (or public space) could become involved
Support of local Councillors to install the toilet door signage as per other clubs
Redcliffe
18 November Zonta Says No Banners were placed at Youth Space, cnr Anzac Ave and Oxley Ave, Redcliffe and Deception Bay Road, Deception Bay for a fortnight
22 November Attended White Ribbon Day March from Redcliffe Police Station to Mon Komo commencing 8.30 followed by oath taking ceremony
23 November Held a Breakfast with Orange Ladies, Zonta Place, Cnr Hornibrook Ave and Main Road, Clontarf commencing at 7.00 am
25 November – 7 December Ladies displayed at various locations around Redcliffe
8 December Ladies at Rotunda at Suttons Beach 5pm.
Moreton Bays Regional Council buildings to turn on orange lights.
Rockhampton
21 November-10 December 2018 – Display at Rockhampton Airport
25 November – 10 December Orange lighting of the heritage façade buildings in Quay St
25 November – 11 December Display at Rockhampton South Library
24 November – 14 December  ZSN banner displayed at RRC site Colts Ruby Union, opposite Kershaw Gardens (busy highway)
Orange ladies positioned in various businesses – Bluebird Sports Club, Paint Inspirations, CQ Agencies
8 December – Stall at Arcade Markets
Capricorn Coast:
25 November – 10 December – Orange lighting of the Yeppoon foreshore lights, Wreck Point Lookout & Singing Ship Emu Park
Display at the Yeppoon library
24 November – 8 December ZSN banner hung in Beaman Park, Yeppoon CBD
Orange ladies at Paint Inspirations
Roma
Displayed the Zonta says No banner across the front of a local Hotel which fronts onto the main street providing maximum exposure
Distributed drinks coaster with the Zonta message to local clubs and hotels
Requesting that the Maranoa Regional Council allow the placement of orange lights in the main street
Placed Zonta Says No information brochures (A4 posters) on the inside of toilet doors in local clubs, hotels and public conveniences
6 December – Held a stall at the annual Christmas Street party with information available and orange food – i.e. jelly cups, orange cake and patty cakes and possibly orange lolly snakes.
Placed orange silhouettes in shops in the main part of town – both the wooden silhouettes with a Zonta Says No message on them and cardboard cut out silhouettes for shop windows also with A4 poster messages
Stanthorpe
 25 November – 10 December – display our large banner advocating Zonta Says No to Violence to Women on a prominent hotel front in the main street
30 November -Participated in the local Park Run wearing our orange Tshirts which say "Zonta Says No to Violence Against Women"
Liaised with the Council to place notices on the back doors of the public bathrooms which give contact details for organisations in the area that can support women
Toowoomba
23rd November (Saturday) : Zonta Sausage Sizzle (with proceeds going towards our 16 Days of Activism projects)
25th November (Monday) :  Combined group morning event to show respect for those victims of domestic violence and to unveil a Red Bench by our Mayor
Zonta Banner across one of our main Streets "Zonta says NO to Domestic Violence" 
Toowoomba Council lit up a bridge and the civic centre with orange lighting
Collaborated with other Women's groups; Soroptimists, Quota, Inner Wheel and CWA with a new group called the "16 Days of Activism Group", being active in the community during the 16 days
Zonta White Ladies with orange scarves were placed at strategic sites during the 16 days
Townsville & Townsville Metro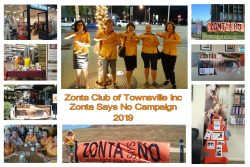 Desiged and printed a Domestic Violence Information card, which is the size of a business card which was delivered to community, shops, police stations, health centres etc.
Large ZSN banners placed in strategic locations
Warwick
Warwick Zonta  continued using orange ladies (a fourth is being made this year by our local Men's Shed) and they were  moved around businesses in Warwick, Allora and Killarney over the first 15 days culminating in displays in 4 churches on the last Sunday
Wynnum Redlands
Walk the Talk Against Gender Based Violence – walk Cleveland to Raby Bay Barbour
E-Z Club of Cairns School of Distant Education
 Made orange paper dolls to represent each of the women who have lost their lives to DV. These were be displayed in the Admin Foyer along with full size orange women silhouettes and information for DV service, Life Line and our 'Safety Tips for Women and Girls' brochure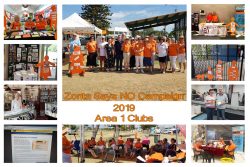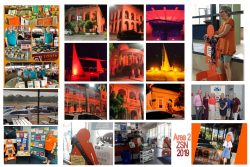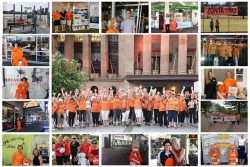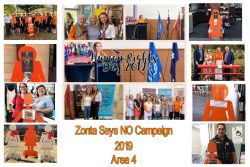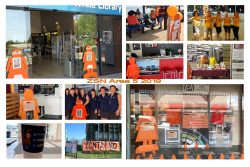 To find out more about this global campaign visit the Zonta Says No website.