Z Clubs and Golden Z Clubs
Established in 1948, the Z Club and Golden Z Club program is one of Zonta International's longest-running programs. Z clubs and Golden Z clubs help high school, college and university students develop leadership skills, promote career exploration and encourage members to participate in community, school and international service projects.  More information about Z Club and Golden Z Clubs is available on the Zonta International Website.
The District held its first Z and Golden Z Club Conference in Mackay on 3 March 2018.  The Conference was held at the CQU Mackay campus and hosted by the CQUni Mackay Golden Z Club.  Speakers covered topics such as mindfulness, independence in financial planning and gender inequality in the workforce and provided an opportunity for the Club members to share their various fundraising ventures.
In another first the District has the first E-Z Club – the School of Distance Education and sponsored by the Zonta Club of Cairns Inc. (see photo below of the Charter presentation)
For further information on Z and Golden Z Clubs contact our District 22 Chairman Gail Clark by email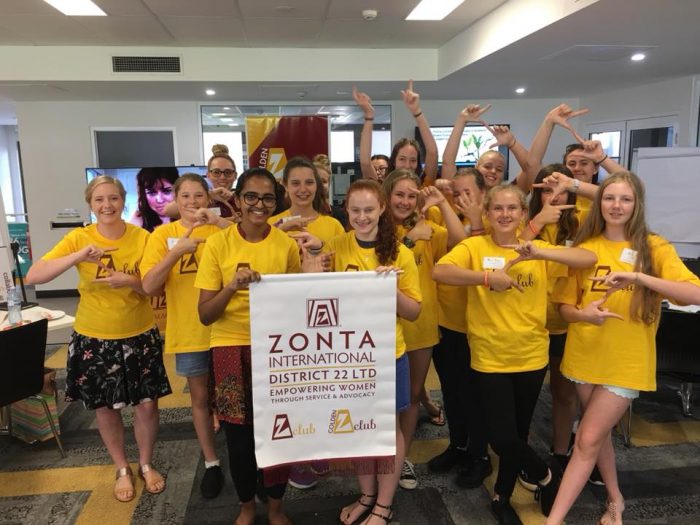 District 22 "Z" Clubs
Sponsored by the Zonta Club of Burdekin Inc
Burdekin Catholic High School Z Club – Burdekin Catholic High School
Sponsored by the Zonta Club of Cairns Inc
E Z Club – School of Distance Education 
Sponsored by the Zonta Club of Caloundra City Inc
The Ambassadors Z Club, Caloundra State High School
Sponsored by the Zonta Club of Charters Towers Inc
St Gabe's Z Club – All Souls St Gabriel's School
Sponsored by the Zonta Club of Mackay Inc
 HOWWZ – North Mackay State High School
HSC Z Club – Holy Spirit College
Mirani Meg Z – Mirani State High School, Mirani
Northern Beaches Z Club – Northern Beaches High School, Mackay
Pioneer Z Club – Pioneer State High School, Mackay
St Patricks College Z Club – St Patricks College Mackay
WAZ – Whitsunday Anglican School, Mackay
Zarina Z Club – Sarina State High School, Sarina
Sponsored by the Zonta Club of Mount Isa Inc
Mount Isa Z Club – Mount Isa High
Sponsored by the Zonta Club of Noosa Inc
Good Shepherd Lutheran College Z Club
Sponsored by the Zonta Club of Pine Rivers Inc
Z Club of Mount Alvernia College
Sponsored by the Zonta Club of Townsville Metro Inc
Women of the World – St Margaret Mary's College, Townsville
Sponsored by the Zonta Club of The Whitsundays Inc
Sponsored by the Zonta Club of Wynnum Redland Inc
Hillbrook Anglican College
District 22 "Golden Z" Clubs
Sponsored by the Zonta Club of Mackay Inc
Sponsored by the Zonta eClub of Queensland Inc
Griffith University Gold Coast
Sponsored by the Zonta Club of Redcliffe Inc
Golden Z Club USC Moreton Bay