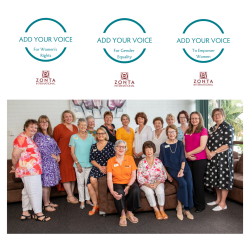 The Zonta Club of Bundaberg Inc was chartered on 24 August 1990  and is one of the most established charity organisations in Bundaberg.
We meet on the FIRST Tuesday of the month at Rowers on the River from 6pm for our monthly Business Dinner Meeting. Attendance at this meeting is by invitation and membership.
The Club Members are dedicated supporters of the goals and ideals of Zonta International.
The Club has been a very active force in the Bundaberg Community, contributing by way of service and advocacy projects. Locally we co-ordinate and support:
A Young Women in Public Affairs award. The Award recognises young women, ages 16-19, who demonstrate superior leadership skills and a commitment to public service and civic causes and encourages them to continue their participation in public and political life. Congratulations to our 2021 winner, Kallara Harney;
https://www.zonta.org/Web/Programs/Education/Young Women in Public Affairs Award
STEPS program in partnership with CQU – The scholarship provides recognition and financial assistance to a first year female Bachelor student residing and studying in the Bundaberg Region;
https://www.cqu.edu.au/courses/study-information/work-and-study-preparation/steps
In Bundaberg we provide financial bursaries to girls transitioning from Grade 6 in local State Primary schools (South, Walkervale, Bundaberg West, Rosedale, Gin Gin, Thabeban & Burnett Heads to Middle School Grade 7 in local High Schools. These yearly bursaries are presented to the students at year end school presentations with monies paid to their high school of choice;
Co-ordinate a local 16 Days of Activism Campaign to End Violence against Women and Girls which runs from 25 November to 10 December each year;
Financial and wellness workshops covering finance, real estate, legal, travel, traditional and complementary therapies, fun activities and much more;
We support the Bundaberg State High School Human Powered Vehicle for both the junior and senior Girls teams;
Support 'EDON House' a Non-government community-based organisation providing specialist domestic and family violence services in Bundaberg and North Burnett Regions;
Support Phoenix House a counselling service for sexual assault victims;
Production of STOP cards which has contact details for all the local community and welfare organisations;
Ongoing Australia-wide projects include making cushions for local breast cancer patients; https://www.bcna.org.au/
Assembling birthing kits to prevent the deaths of mothers and babies in developing countries; https://www.bkfa.org.au/zonta-clubs/
Plus, many more adhoc activities from time to time.
Just some of our fun fundraising & social activities include:
A yearly community breakfast to celebrate International Women's Day;
Movie Premiere Fundraisers;
Bunnings Sausage Sizzles;
Trivia nights, raffles, wine & chocolate drives;
Sales of our Zonta branded items such as Keep Cups, bags, pens;
Online Raffles, Golf Days, Fundraising Walks; and.
Progressive dinners & Derby Day.
Zonta Club of Bundaberg – we are group of women who encourage each other, involve each other, support each other, empower each other, educate each other, enjoy each other's company, and allow each member to do what they can when they can for the great cause of Zonta International.
We would love to see new members join us and bring to the club their thoughts, ideas, and support for the great work that Zonta Bundaberg does on a local, national, and international level!  You will be a part of one of 2800 clubs worldwide and over 28,000 members!
Interested in making a difference in women and girls lives, locally and internationally?
Members may join Zonta through the following ways:
By Application: Prospective members may complete the Prospective member Questionnaire Form.
Click here: Initial Prospective Member Questionnaire Form PLEASE RETURN TO ZONTA BUNDABERG V2
Once the form is completed and submitted to zontaclubbundaberg@hotmail.com , the Club contacts the prospective member to invite you to an information session or arrange a one on one meeting.
By Invitation: Many Zontians directly invite people to attend their club meetings or social events to learn more about becoming a member.
Come and join our Zonta Bundaberg Tribe!
For more information about the Zonta Club of Bundaberg Inc. please send an email or visit https://www.facebook.com/ZontaClubBundaberg