Zonta Rockhampton Living Treasure Award 2021
The Zonta Club of Rockhampton has awarded an annual Living Treasure Award since 2003. A local woman is identified each year who has made a significant contribution to the community over many years. The Living Treasure Award is judged on the basis of the recipient's achievements in any of the following area(s): social, environmental, economic, professional, financial, political, cultural, spiritual, sporting, education and business.
The criteria used in selecting the recipient include:
• the contributions to the community and achievements of the nominee
• how the nominee has brought about positive change
• how the nominee has inspired or influenced others by her achievements
• how the nominee has shared, empowered and or lead others by her achievements and skills
• other community activities that the nominee is/has been involved with
• how long and with what frequency the nominee has been involved in her community activities.
Marg Whitchurch learnt the importance of community early in life as. Although
she was born in Brisbane, her family moved to the small township of Yeppoon when she was two years of age. She was enrolled at St Ursula's College and completed her entire education there, experiencing first-hand the sense of community that Boarding School develops. Marg's care and concern for others was evident in her subsequent career choice; she trained as a nurse at the Mater Hospital in Rockhampton.
Married life presented Marg with two sons – and a move to Emerald but, while there, Marg's first marriage ended so she returned to nursing at the Emerald Hospital. She subsequently met her second husband, Charlie and, with his two daughters, they formed a family of six.
With this extended family, Marg no longer worked full-time but any spare time she had was soon spent volunteering. The school tuckshop, Charlie's Rotary Club, the local Ambulance and Agricultural Show were beneficiaries of her time and generosity, as was the newly formed Inner Wheel Club.
In 1986, with their children grown, Marg and Charlie moved to Rockhampton where Charlie started work in Accident and Emergency and Marg took up work in Real Estate, while also devoting time to a small business she had started with a friend. Nevertheless, her efforts with Inner Wheel increased and in time she became President of Inner Wheel Australia and also served on the International Board.
Marg's outstanding efforts earned her the prestigious Margarette Golding Award for community service – but her efforts didn't stop there. When Charlie started working for the RFDS, Marg volunteered with the Auxiliary and went on to serve as President for 10 years.
Sadly, Charlie passed away in 2007 – but, instead of feeling sorry for herself, Marg poured more time and energy into community service. Her efforts have been amazing. She has been Lifeline Volunteer Counsellor for 27 years and has also been a Team Leader with Lifeline Community Recovery, deployed to assist with the personal aftermath of natural disasters.  Her efforts with the victims of floods, cyclones and bushfires were recognized with a National Emergency Services Medal.
For the last 26 years also, Marg has volunteered her time for Christmas gift wrapping on behalf of the Heart Foundation. She has also given great service to her 'old' school, recently completing a six year 2 of 2 term as a Director of the St Ursula's College Board – an honorary position. Marg is also active in her Church and is a member of the Bereavement Team of St Joseph's Cathedral Parish.
Despite all her accomplishments, however, Marg says she feels privileged to serve the community and believes she has gained more than she has given. We sincerely thank and congratulate you, Marg.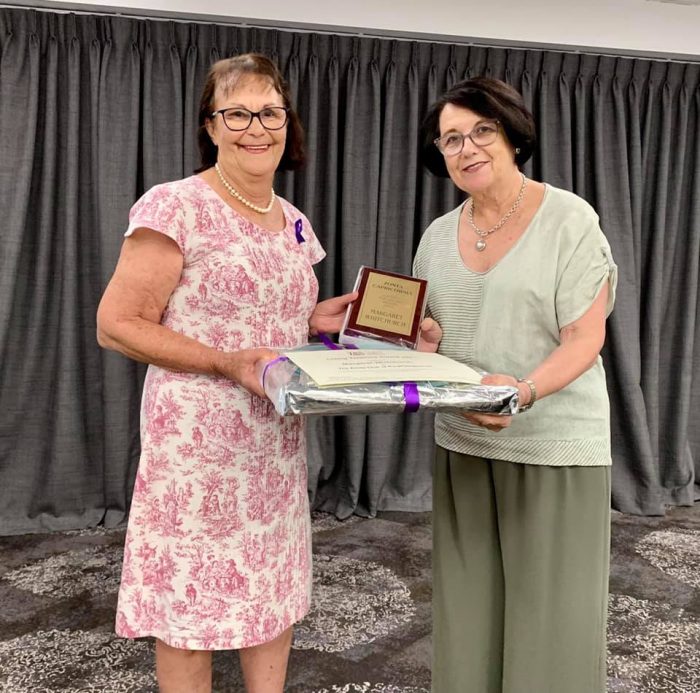 Marg was presented with her award by Zonta Club of Rockhampton President, Catherine Dunbar, at the Zonta International Women's Day Breakfast on March 8.