Successful 2017 IWD Breakfast…
The Zonta Club of Noosa Inc hosted their annual International Women's Day Breakfast on Wednesday 8th March at the River Deck Restaurant and Bar, Noosa Marina to celebrate the achievements of women throughout the years.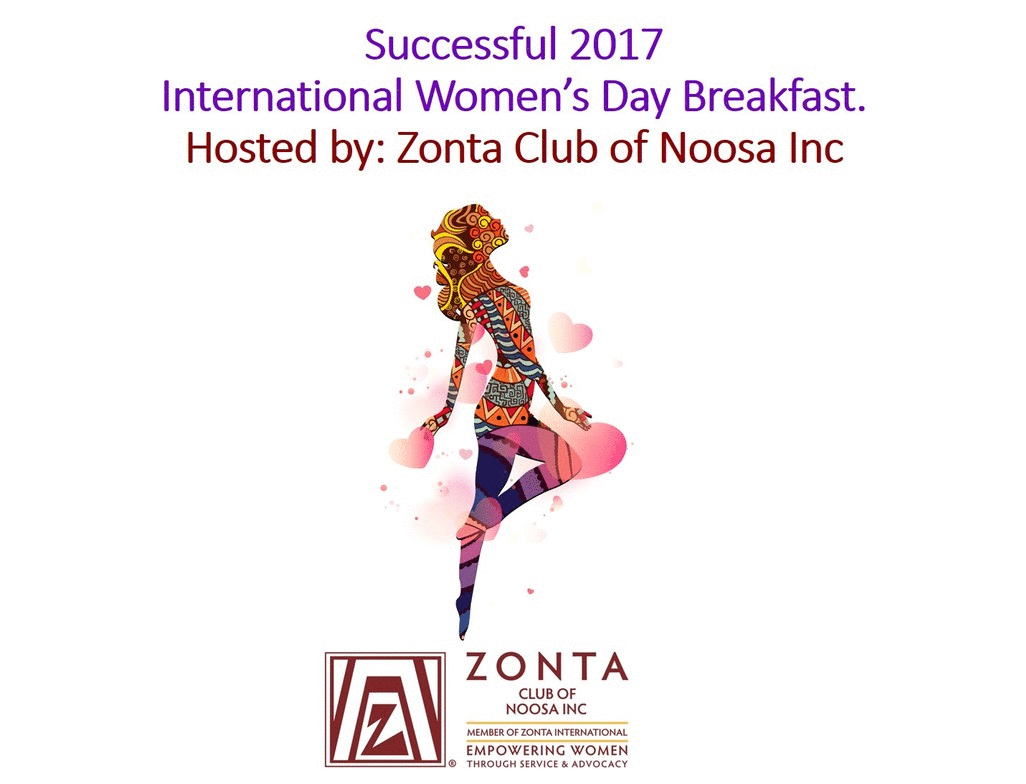 The theme for 2017 is 'Be Bold for Change'.
The very successful event was well received and enjoyed by 120 attendees.
Key messages and presentations were provided by:
President: Zonta Club of Noosa Inc: Jan Comins
Student speakers: Amy Bennie (Student Guest Speaker) and  Madeleine Wilson (UN Secretary General's Address)
Keynote Speaker: Frederika ("Freddie) Steen, AM (Refugee Advocate)
MC for the event was Annie Gaffney (ABC Radio).
Annie provided a seamless flow between guest speakers and events in the 2017 IWD Celebrations. A very big 'thank you' to Annie for her talent and skills, and her ongoing support of the Zonta Club of Noosa.
A little about Frederika Steen: (Refugee Advocate)
Frederika was born in a war zone (occupied Holland 1944). Her father was active in the Dutch Resistance during the World War 2 and her family was hidden from the Dutch Nazis by strangers.
Frederika's profound sense of gratitude to these strangers influenced much of her later life. Her family migrated to Australia in 1950.
After initially working as a high school teacher Frederika joined the public service in Canberra. She has been actively involved in community, refugee, multicultural and human rights activities for over thirty years. She was the inaugural head of the Women's Desk in the Department of Immigration and Ethnic Affairs focussing on providing information and building up the confidence of migrant women to "do it for themselves".
She volunteered for six months in one of Thailand's largest refugee transit camps at Phanat Nikhom after which she became an increasingly vocal advocate for refugee rights and was named 'Canberran of the Year' on her return.
After a distinguished career in settlement services in the Department of Immigration and three years as the Chief Migration Officer in the Australian Embassy in Germany, Frederika retired.
In retirement, she has served on the Board of the Multicultural Development Association and volunteers at the Romero Centre, a refugee support and advocacy hub in Brisbane.
In 2014 she was awarded a Member of the Order of Australia (AM) for services to refugees and asylum seekers in a voluntary capacity.
A host of raffle prizes were also provided to the IWD Breakfast and recognition and thanks goes to the following businesses for their generosity and support:
The Works on the Marina
Eumundi Meats
3Three Australia
Ebony Beauty Express
Smyths Hairdressing
Chocolarte to the Max
Noosa Ferry Service
River Deck Restaurant and Bar
It's All About Me – Fashion and Accessories.
Thank you also to the Community and Zonta members who so generously give of their time and regularly support the mission of Zonta. A very sincere 'thanks' is extended to you all!
*Want to know more about International Women's Day: