News from the Women in Technology Scholarship Committee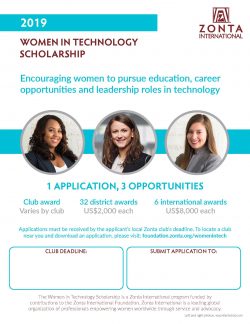 The Zonta International Women in Technology Scholarships are now available and can be found on the Zonta International website. I have attached two documents for your information.

1. Information for Clubs and District   WomeninTechnologyGuidelinesForClubsDistrictsandRegions

2. Applicant Information.  WomeninTechnologyApplication

Further tools can be found on the Zonta International website

D22 Clubs will need to consider their local scholarships within their budget. Clubs are requested to encourage potential applicants and send Club awardees to Jo Diessel, Chair Amelia Earhart Committee by 1 August by Email

A Committee of four, three Zonta Club members and an external expert in the field will consider applications and the recommended District 22 recipient will be submitted to the District 22 Governor, Sandy Venn – Brown by 1 September. District nominees are to be forwarded to ZI by 1 October 2019. Official announcements of district and international recipients will be announced mid November 2019.


News from the District Board is available to Zonta Members, use the login above to access the page or register as a Zonta Member.