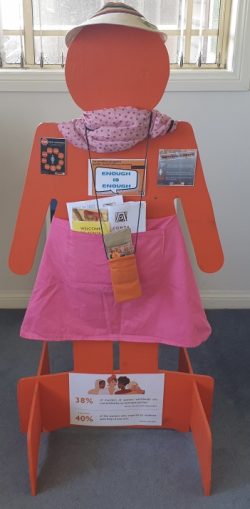 Look out for our Orange Ladies in Ballina, Alstonville, Lismore and Casino from 25th November.
The Zonta Says NO to Violence Against Women campaign is during the 16 days of Activism each year from Nov 25th to Dec 10th.  The bright Orange Lady is the global symbol for Zonta's anti violence message and a hope for a better future for women and girls.
The Northern Rivers of New South Wales stretches from the mighty Clarence River in the South up to Tweed Heads on the Queensland border and out to the foothills of the Great Divide.  It's where the world's largest expanse of subtropical rainforest meets mountains forged from ancient volcanoes, overlooking more than 300 kilometres of spectacular coastline.
Counter-culturalists, environmentalists, farmers, artists, academics, entertainers, entrepreneurs and more co-exist in a unique collection of communities. If nothing else, they have this in common; an appreciation that this region offers an unrivalled quality of life for residents and visitors alike.
The Zonta Club of the Northern Rivers of NSW was established in 1996, and is a member of Zonta International.
We promote the ideals of service, advancement of the status of women, networking, and personal development for women.
We support Zonta International service projects, advocacy for women in Australia and in developing countries, and local community service projects.
Fundraising by our club supports local and international service projects.
Local Service Projects
1996 Established a clinical room for Sexual Assault Service at Lismore Base Hospital
1997 Funded conflict resolution training course for year 8 students in local high schools.
1998 Furnished a women's room at Lismore Court House for domestic violence cases.
1999 Funded an emergency mobile phone link for women in crisis.
Provided overnight children's supplies and emergency supplies for local Women's Refuge.
Supplied linen, soft toys and toiletries for Koori Women's Refuge.
2000 Established a designated private room at Lismore Base Hospital for women and families suffering from the experience of stillbirth or miscarriage.
2002 Repaired, repainted and furnished emergency accommodation at local Women's Refuge.
Provided funds to Northern Rivers Family Care Centre.
Set up women's safety rooms at local courthouses.
2003 Set up women's safety room at Ballina Court House.
2004 Donated funds for monthly tea and coffee for Family Care Cottage at St Vincent's Hospital.
Set up women's safety room at Mullumbimby Court House
2005 Provided care packs for women admitted to Richmond Clinic and emergency ward at Lismore Base Hospital.
2006 Helped to establish office facilities for the 'Aunty' Project in Byron Bay.
2007 Refurbished the relocated Zonta Room at Lismore Base Hospital
2008 Continued to provide care packs. Added post-natal care packs for the outreach program of the Aboriginal Maternal Infant Service.
2009 Commenced bursary at ACE to assist women returning to work.
2010 Provided care packs to Mental Health support networks
2011 Purchase of Christmas gifts for Women Up North Housing families
2012 Provide Housewarming packs to Women Up North Housing Cooperative women and families
2018 Provided funds to assist with speakers at the Lismore Women's Festival
2019 Established the Little Angels Memorial Garden at Lismore Crematorium
2021 Working with North Coast Community Housing and Southern Cross Credit Union on supporting older vulnerable women in our community
2022 Following the devastating floods of February and March 2022, we continue to support key agencies that support women and girls in the Northern Rivers. This includes North Coast Community Housing and Heartfelt House.
Zonta Club of Northern Rivers holds its monthly dinner meeting on the third Wednesday night of each month at Alstonville Bowls and Sports Club from 6pm and we have a range of interesting guest speakers at dinner meetings.
Every Zonta member has input into club activities through committee participation.
If you would like to attend a Dinner Meeting contact our President:  Lyndall Smith on 0424 427077 or send an email or contact us by mail to Zonta Club of Northern Rivers, PO Box 108, Alstonville, NSW, 2477. We also welcome DONATIONS to our service projects so contact us for bank deposit details.
To find out more about the activities of Zonta Clubs throughout District 22 Click here
Zonta Says No Tea Towels are now available to order. The tea towels raise funds for our service projects. FINAL Teatowel Flyer ZontaNR