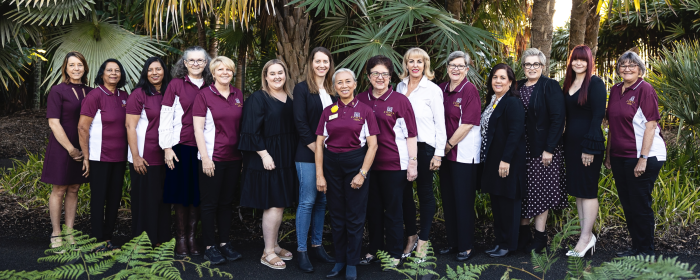 About our Club
The Zonta Club of Mackay was chartered in October 1992 – that makes us 30 years old in 2022!
We are a passionate and diverse group of women that reflect a cross-section of the Mackay community. From young professionals, to business owners and retirees, our membership group varies in age, careers, lifestyles, backgrounds and experience.
We meet over dinner from 5.30pm every third Tuesday of each month at Ocean International.
Our Club is part of Area 5 (Mackay, north to Cairns and west to Mt Isa), comprising nine clubs with over 200 members. Area 5 is in District 22 which encompasses Queensland and northern New South Wales.
About our home
Our coastal city of Mackay, located about halfway between Cairns and Brisbane in Queensland, is home to over 125,000 people. We live a relaxed, tropical lifestyle that combines all the facilities of a modern regional city with an array of natural wonders.
Our Misson
Zonta International is a leading global organisation of professionals empowering women worldwide through service and advocacy.
Our Vision
We envision a world in which women's rights are recognised as human rights and every woman is able to achieve her full potential.
Our activities
One third of our funds raised are directed to Zonta International in support of globally funded projects. The remaining two thirds of our funds raised are directed towards our local projects, awards, activities and events including:
Education
Young Women in Public Affairs Award – recognises leadership in young women in senior secondary schooling.
STEPS Scholarship – 

awarded to local women to assist with their studies at CQ University.

Jane M Klausman Award

– presented to a local woman currently completing a Business degree. 

Service
Financial sponsorships and in-kind donations to various local community organisations such as:
Mackay Women's Services

Chances Are

The Trudy Crowley Foundation

Samaritan House

The Salvation Army

Bravehearts Courage Project

Broken Ballerina

Assembling of Birthing Kits to assist women giving birth in developing countries.

Provision of breast care cushions to local hospitals for breast cancer patients.
Advocacy
March – International Women's Day luncheon (IWD)
May – Candle Lighting Ceremony – in memory of those who have died as a result of Domestic and Family Violence.
October – Reclaim the Night
November – UN Day for the Elimination of Violence Against Women and 

ZONTA SAYS NO TO VIOLENCE AGAINST WOMEN
Fundraising
Cent Sales

Bunnings Sausage Sizzles

Movie nights

High teas
Mackay Women
Our Mackay Women events aim to educate and inform, and Motivate, Inspire and Connect women from all walks of life. With a range of fantastic guest speakers, attendees can expect great food, great company, networking opportunities and to walk away with some inspiration and motivation.
To assist us to host our Mackay Women events, we provide sponsorship opportunities for  businesses and individuals. If you are interested in sponsoring a Mackay Women event, please email mackaywomen@gmail.com.
Z Clubs and Golden Z Clubs
The Zonta Club of Mackay sponsors Z Clubs in the following schools in the Mackay District:
CQUni Golden Z Club
Holy Spirit College – HSC Z Club
Mirani High School – Mirani Z Club
North Mackay High School – HOWW (Helping Others World Wide) Z Club
Northern Beaches High School – Northern Beaches Z Club
Pioneer State High School – PSHS Z Club
Sarina High School – Zarina Z Club
St Patricks College – St Pats Z Club
Whitsunday Anglican School – WAS Z Club
If your school is interested in starting a Z Club please visit the Z Club website or email us.
Contact us
Membership enquiries
We love to welcome new members onboard. If you'd like to find out more about joining our Club please email us at zontamackay@gmail.com.
Sponsorship applications
To apply for sponsorship please send us an email with details of your request at zontamackay@gmail.com.
Other enquiries
Like to present at one of our meetings, or nominate a guest speaker for an event? Interested in partnering with our club on a project? Able to donate goods to support one of our service projects? Please drop us a line at zontamackay@gmail.com.
Upcoming events
1 October 2022 – Our 30th birthday celebrations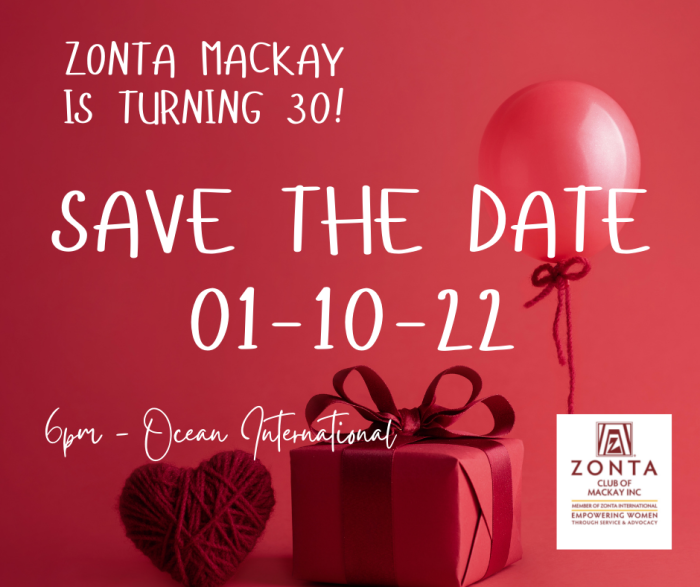 28 October – Reclaim the Night
TBC November – Zonta Says No Breakfast
Each year we plan a program of activities to interest supporters and raise money for our local and international projects. 
Be the first to find out about our upcoming events by following our Facebook page.