ABOUT THE CABOOLTURE DISTRICT
 
Caboolture Division became the Shire of Caboolture on 31 March 1903 after the Local Authorities Act 1902 was enacted.
Caboolture (4510) is a township, some 43 kms from QLD's capital city of Brisbane. Caboolture is in the federal electorate of Longman and is part of the Moreton Bay Regional Council.
Caboolture is a town and suburb in Moreton Bay Region, Queensland, Australia. In the 2016 census, the suburb of Caboolture had a population of 26,433 people. It is located on the north side of the Caboolture River, which separates the town from Morayfield and Caboolture South.
Morayfield is a town and suburb of Moreton Bay Region, Queensland, Australia. It is 44 kilometres north of Brisbane CBD, the state capital. In the 2016 census, Morayfield had a population of 21,394 people.
Morayfield is a mostly residential area, consisting mainly of low-set brick homes and some semi-rural acreage. The main commercial area is concentrated along Morayfield Road and includes the Morayfield Shopping Centre, which opened in 1997. The suburb is situated in the Burpengary Creek catchment area.
The Bruce Highway passes from south to north through the suburb.
The Shire of Caboolture included the following suburbs:
On 15 March 2008, under the Local Government (Reform Implementation) Act 2007 passed by the Parliament of Queensland on 10 August 2007, the Shire of Caboolture merged with the City of Redcliffe and the Shire of Pine Rivers to form the Moreton Bay Region.
IMAGES OF CABOOLTURE AND SURROUNDING AREAS 
  
The Zonta Club of Caboolture Inc was chartered on 3 August 1993.
The Charter Presentation Dinner was held on 14 September 1993 in the Supper Room of the Caboolture Memorial Hall. The 1992-1994 Zonta International President Sonja Renfer was present and also the then District 24 Governor Mary Magee, who later became Zonta International President.   The Zonta Club of Redcliffe Area was the Sponsoring Club.
Our club  consists of an elected Board ie the President, Vice-President, Treasurer, Secretary, and two Directors.
The Club's structure is underpinned by the three mandatory Committees of Service, Advocacy and Membership which are supported by the Finance and Fundraising, Communications and Archives Committees.
WHAT WE DO     
 SERVICE 
  We support a variety of local projects within our community as well as international projects. Providing awards, donations and services that are designed to empower women and girls and assist them to achieve their goals and aspirations.
Award Programs:
Banksia Awards are given to a year 11 student at each of the High Schools in our area. These are encouragement awards for a student who through adversity has conducted herself with integrity, commitment and fortitude.
Sandra Cooke Further Education Grant is a program designed to assist a female wishing to further their education, for example.
A mature aged woman wishing to obtain her High School Certificate.
A student transitioning to further study at University/TAFE/or a Recognised Course.
A woman already undertaking a further education course but looking for assistance with fees or learning materials.
Other awards programs we support:-
Northern Territory Outreach Education Grant
Women in Technology
Jane M Klausman Award
Local Service Projects:
Breast Cushions and associated items. Members of our club and friends make several items which we provide to the Caboolture Breast Care Nurse. Items such as breast cushions, seatbelt buddies, drainage bags, care bags and turbans. When we require more breast cushions we have a lovely day of stuffing cushions and fellowship.
Be Brave is a program we offer to schools in our area for girls to have the opportunity to learn some self-defence and relationship guidance.
Inclusion Swimming Program is offered to girls at the Lee Street Special School who are not covered by government funding to partake in swimming lessons.
Creating Confidence Program is run by a member of the Queensland Police Service to give girls from disadvantaged backgrounds the opportunity to play netball. Our club provides funding to help with the purchase of shoes and uniforms.
RUBY Program (Rise Up Be Yourself) is an exercise program run at the local PCYC for women experiencing domestic and family violence.
Other Service project we support:
Baby/ Toddler Emergency Packs
Christmas Hampers to Service Providers in our community
International Service Projects:
Birthing Kits. Each year our club members along with friends pack Birthing Kits which are send to remote communities in African countries and also Papua New Guinea. These kits help to reduce infection and improve the well-being of mothers and babies.
Our club also supports other International Projects through our yearly donation to Zonta International.
 
ADVOCACY
The 16 Days of Activism Against Gender Violence is a global campaign to raise awareness about violence against women and its impact on a woman's physical, psychological, social and spiritual well-being.  Human rights cannot be universal without human rights for women.
The 16 Days of Activism begins on 25th November on International Day for the Elimination of Violence Against Women and ends on December 10th International Human Rights Day. These two dates highlight that violence against women is a human rights abuse.
  Zonta Says No to Family and Domestic Violence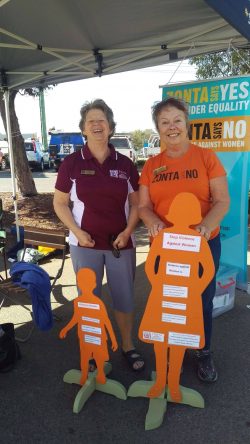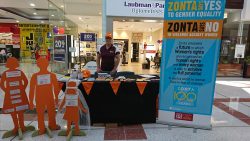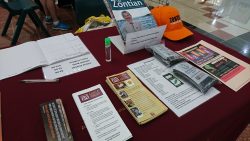 FINANCE AND FUNDRAISING  
An enthusiastic Finance and Fundraising Committee meets monthly to brainstorm various ideas to fundraise for our club, including  BBQs at Bunnings, Morayfield, and Trivia Nights. Our fundraising efforts in the past have included a Fashion Parade and High Tea and multi-draw raffles in September, and gift wrapping at Morayfield Shopping Centre for  Christmas. We  actively seek helpers to join us in fundraising and friendship.  All welcome.
 
MAJOR EVENTS ON OUR CALENDAR
8 MARCH INTERNATIONAL WOMEN'S DAY CELEBRATIONS
2014 Guest Speaker:  Professor Ian Frazer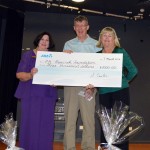 2015 Guest Speaker Hetty Johnston, AM, JP, Founder and CEO Bravehearts Inc 
  
2016 Guest Speaker:  Paralympian Lakeisha Patterson OAM   

 
2017 Guest Speaker:  Rochelle Courteney founder of Share The Dignity
 
2018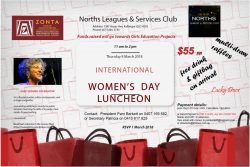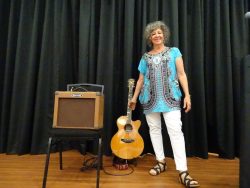 2019
 
2020
 
2021

MEMBERSHIP  
Membership has varied between 6 in 1998 and 23 in 2020 and continues to grow in strength as we are seen out and about in the community and we are getting better known.


Induction of new member Monica in Covid times
WHY JOIN ZONTA?  
Zonta is for people who take a world view of the difficulties faced by women and girl children, as well as dealing with the day to day instances of this that are played out in our local com
munities
For example:  Women faced with emergency caesareans in Australia mostly go on to have healthy, live babies.  In developing countries, girls are married young, often too small to give birth naturally and when difficulties arise they are left with a fistula (hole) in either the bladder or bowel.  The result is that their lives are ruined – for a long time, and sometimes forever.  It is just a matter of geography. 
It requires only a simple operation to fix the fistula, but that is often beyond the capabilities of the medical expertise and resources of the poor countries and communities.  We can help with that.
Zonta looks to improve the legal, political, economic, educational, health and professional status of women and girls.  We work for a life free from physical or emotional violence and promote peace in our communities and the world, as women tend to suffer the most in all conflicts.
Zonta allows women to act together with likeminded members of their community, to take up tasks which apply to all of these areas, some locally and some through Zonta International and our overseas projects.  
Women who are aware of problems faced by women and girls can achieve great things if we work together with a plan which is researched and devoid of corruption.  Getting the money and assistance to where it is needed is the challenge and through Zonta, we have a way of showing empathy and compassion for the less fortunate, by working in all the areas which Zonta has included in its Code.   
Check out our Facebook page and look up the www.zonta.org website for more information.
WHERE WE MEET
The Club meets on the Last Wednesday of the month at the Jacaranda Restaurant, King Street, Caboolture entrance, from George Street at 6.00 for at 6.30 pm. If you are interested in attending any of our meetings or functions please contact  Sue Droughton on 0415 177 608 or send an email.
To find out more about the activities of Zonta Clubs in our District
Click here