Zonta Club of Stanthorpe 2018 Changeover
Zonta Club of Stanthorpe  held it's 2018 Changeover at Jamworks on Saturday 19th May. 21 Club members and partners along with invited guests  SDRC Mayor Cr Tracy Dobie,  James Lister MP Member for Southern Downs (LNP) Rotary President Morwenna Harslett and Angie and Stuart Sims enjoyed a wonderful evening.
We inducted 3 new members, Gidge Anderson, Debbie-Ann Wilmot and Kathryn McKewin.
Our incoming board for 2018 is  President -Peggy Channon,  President Elect – Rosemary McMahon, Vice -Desleigh Volpato,  Treasurer – Edith Boccari,  Assistant Treasurer- Kath McKewin, Minutes Secretary – Sonia Battle & Sarah Hume, Correspondence Secretary – Jenny Lutter,  Directors of Service  – Denise Hilton, Advocacy – Kate Finlay, Archives – Sandy Dillon, Membership -Deb Debnam, Programs & Communications -Desleigh Volpato.
The members thank our outgoing President Deb Debnam and her committee for their hard work and leadership.
–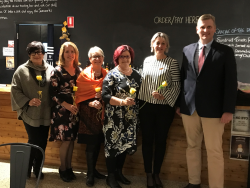 Directors of Advocacy, Programs,Service,Archives and Membership with James Lister MP