Zonta Clubs around the world unite for 16 Days of Activism, 25 November to 10 December each year, to highlight the Zonta International Campaign to eliminate violence against women and girls. 25 November each year is the United Nations Day for the elimination of violence against women and 10 December, United Nations Day for Human Rights
In the lead up to and during the 16 days of action, clubs take to the streets of their neighbourhoods, towns and cities organising a wide range of "orange events" to emphasize the importance of individual and community activism to end violence
WHY THE COLOUR "ORANGE"?
The United Nations Secretary-General's Campaign UNiTE to End Violence against Women has proclaimed the 25th of each month as 'Orange Day', a day to raise awareness and take action against violence against women and girls.
WHAT ARE THE KEY MESSAGES OF THE CAMPAIGN?
Both men and women experience substantial levels of violence;
Domestic, Family and sexual violence is overwhelmingly committed by men against women;
The majority of people who experience domestic violence are women; and
DV knows no boundaries and occurs in all strata of society.
We need to change our attitude about women and our behaviour to build respectful and positive relationships.
WHAT ACTIONS DO CLUBS TAKE?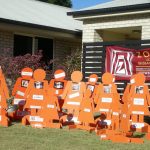 Placement of "Orange" women (plywood cut outs) in prominent locations e.g. businesses, ferry terminals, libraries etc. These silhouettes have information on violence against women as well as safety information for victims of domestic violence.
Ask Government and Councils to support the campaign by lighting buildings and bridges orange during the campaign
Hold functions with special guest speakers to provide information and statistics on the incidence of domestic and family violence and the support services available to victims of violence.
Print and distribute community Information (Safety Cards) with emergency phone numbers for those who may be in a violent situation
Displays in Libraries, shopping malls and sporting venues
Sponsor the training of facilitators to conduct the school based "LoveBites" program which covers respectful relationships
WHAT ARE CLUBS DOING DURING THE 2018 CAMPAIGN?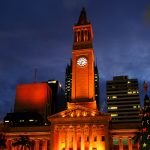 Brisbane
16 November 2018 – Luncheon Moreton Club, New Farm (See events calendar for costs and details)
12-25 November 2018 – Zonta Says NO Banner hung on the outward bound side of the Story Bridge
19 November and 25 November -10 December 2018 – Sir Leo Hielscher Bridges lit orange
19 November 2018 – City Hall and King George Square lit orange
19 November 2018 – Zonta Says NO Walk around the City commencing from King George Square at 6.00pm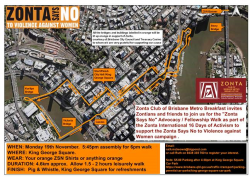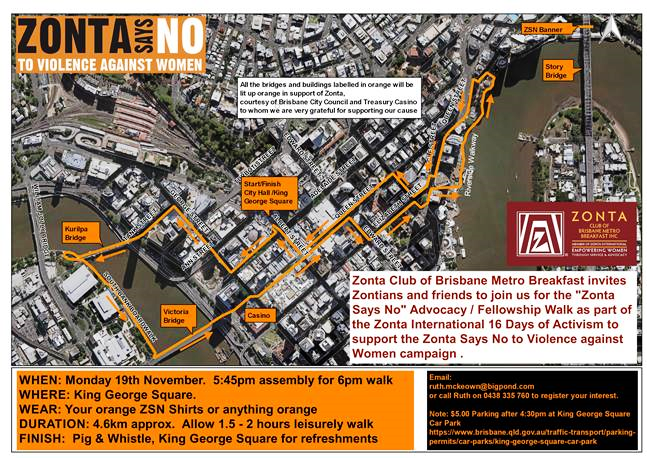 19 November, 22-25 November 2018 – Story Bridge lit orange
19/20 November and 22-25 November  2018 – Victoria Bridge lit orange
19-24 November 2018 – Kurilpa Bridge lit orange
19-25 November 2018 – Tropical Dome lit orange
19-25 November 2018 – Treasury Casino lit orange
24 November 2018 – Pop-up Information stall, Kenmore Village Shopping Centre
26 November 2018 – "Paint the Bayside Orange" Breakfast with Guest Speaker, Wynnum Manly Leagues Club
29 November 2018 – Pop-up Information stall, Brookside Shopping Centre
Publicity
Half page article in October 2018 Edition of "Brisbane Circle" magazine
Beaudesert
25-November-10 December 2018 – Large ZSN banner hung across William Street, Beaudesert and Zontians handing out information to residents
Caboolture
30-November-1 December 2018 – Display at Morayfield Shopping Centre
Maroochy
1 December 2018 – Display at Sunshine Plaza Shopping Centre, Maroochydore
Redcliffe
24 November 2018 – Breakfast on the foreshore at Clontarf
Rockhampton
21 November-10 December 2018 – Display at Rockhampton Airport
Townsville
25 November -10 Dcember 2018 – Oxley Street Fountain on The Strand coloured orange
Wynnum Redland
24 November 2018 – Community Forum with Guest Speakers, Redland United Football Club – 10.00am-midday
To find out more about this global campaign visit the Zonta Says No website.