The Club meets on the THIRD Tuesday every month at 6pm (second Tuesday in December and no meeting in January). Dinner meetings are usually held at "Urban Grounds",  210 Herries Street, Toowoomba.


We WELCOME prospective members!
Please email our Membership Committee – zontatgcmembership@gmail.com or send message via 
our Facebook page.
We will send you a Prospective Membership form for you to complete and bring along to our next dinner meeting.
Ann
ual membership is currently $160 and cost of the two course dinner at our monthly meeting is $35. Ideally you are able to attend the majority of meet
ings.
Our service activities include the assembly of Birthing Kits and production of mastectomy care cushions. We host the White Ribbon breakfast as part of our "Zonta Says No to Violence" campaign.
We have an annual "International Dinner" and Christmas celebration, meet to celebrate birthdays, participate in the Peak2Park walk as a team, among other group activities.
Our major fundraiser is the "Grand Homes Tour" which is held annually in March and showcases some of Toowoomba's finest properties.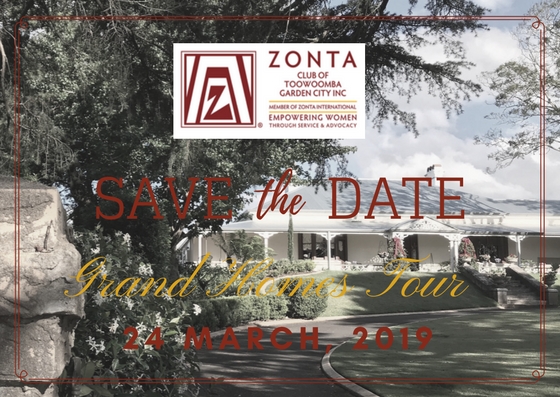 The Zonta Club of Toowoomba Garden City Inc was chartered on 1 May, 1994 and actively serves the city of Toowoomba.