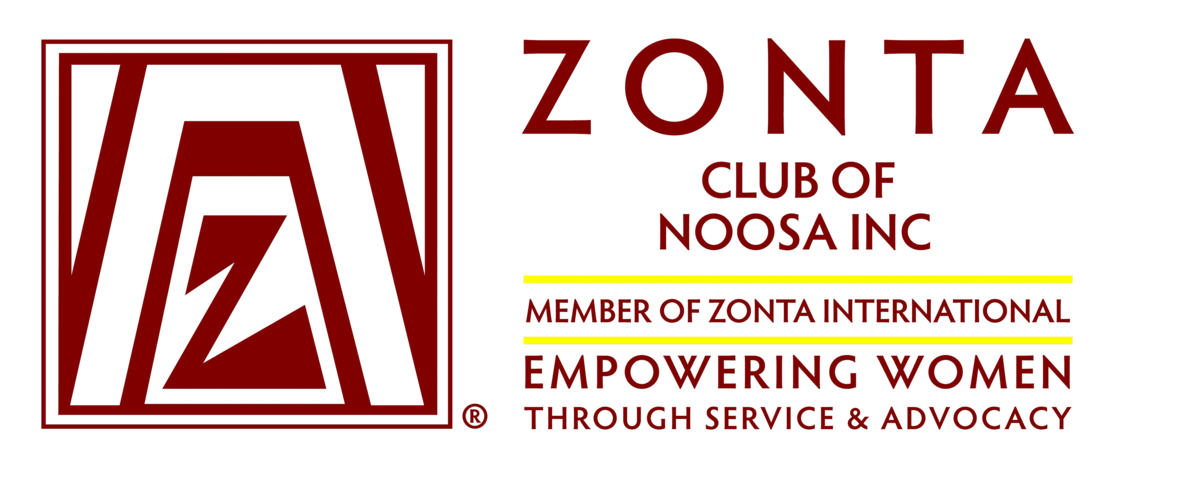 ZONTA'S MISSION:
Empowering Women Through Service and Advocacy at a global and local level.
This is achieved through local fundraising, service and fellowship.
What is Zonta?  Zonta International is a human rights organisation focusing on women and girls world wide.
Zonta International Centennial Celebration (2018-2020) 100 years empowered women.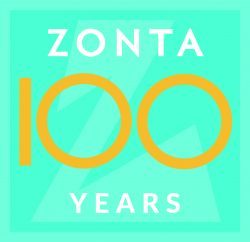 100 years ago, founding member, Marian de Forest dreamed of an organization that would bring together women in executive positions and help them reach their rightful places in the professions that rarely had women leaders.
Since the creation of Zonta International in 1919, our members have dedicated the last century to empowering women, both in and outside of Zonta.
To celebrate these achievements, Zontians around the globe will take part in a two-year celebration to honor the past while heralding the future.
                                                 Zonta Club of Noosa: 1408.  District 22.  Area 01.
The Zonta Club of Noosa was chartered as a club of Zonta International on 31 March 1993.
Club meetings are held at the Noosa Springs Golf Resort and Spa on the second Thursday of each month at 5.30 pm for a 6 pm start and conclude by 8.30 pm.  Our club membership consists of women from a diverse range of ages, experiences, professions and backgrounds.  All members are committed to working together to support major international projects through Zonta International as well as a range of local service and advocacy projects, awards and community-based initiatives.  If you would like to be invited to a monthly meeting OR wish to  contact the club, please send an email with your contact details. Please click here!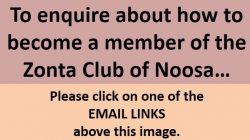 Our Club supports projects such as:
The assembly of birthing kits for women in remote regions of the developing world which provide clean birthing conditions to women who give birth at home
Breast comfort cushions  distributed to women in local hospitals recovering from breast surgery
Personal care packs to women's refuges in the area
Scholarships for indigenous female students, women studying Science with environmental strand, women studying Technology and women undertaking Business Studies
Bursaries for female school students at two local schools
Ongoing support for SHINE Houses for women and children escaping domestic violence
Advocacy initiatives  in collaboration with Noosa Council; 16 days of Activism events
Each year the Club conducts a campaign to raise awareness of the incidence of violence against women and promote the Zonta Says No campaign.  In recent years this has involved a procession along the Boardwalk in Noosa with members carrying orange cut-outs of women displaying messages that violence against women is not acceptable.
In addition to working on fundraising and advocacy issues, the club has a range of activities which provide fellowship and fun with like-minded women as well as the opportunity to form strong friendships with Zontians from other clubs through Area Meetings, District Conferences and International Conventions.


                                                                         Stay tuned: More details for each event to be advised!
*
*8 March, 2021: International Women's Day Breakfast hosted by the Zonta Club of Noosa at the Boathouse, Gympie Terrace.

*2018-2019 Induction of Zonta Noosa Board Members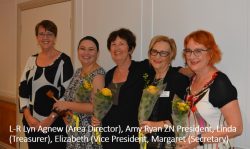 Area Director: Lyn Agnew inducted the 2018 Zonta Club of Noosa Board (office Bearers)
An evening of celebration and recognition of Zonta and its Members!
*Zonta Club of Noosa 25th Birthday
Recently the Zonta Noosa Club held its 25th Birthday celebration.
During the 25 years the Club has raised OVER $550,000 for local projects and fulfilled Zonta International commitments and has worked through Advocacy and Service to empower women.
See more of the 25th Birthday Celebrations: Please click here!
*2021: 16 Days of Activism

25 November, the International Day for Elimination of Violence against Women and Girls, to 10 December , Human Rights Day, the

16 Days of Activism

against Gender-Based Violence Campaign is a time to galvanize action to end violence against women and girls around the world.

To find out more about Zonta Says NO to Violence Against Women: Please click here!
View full details: Please click here!
*2021 Zonta Noosa Birthing Kit Assembly Day.
View full details: Please click here!
*Zonta Noosa and Bunnings (Noosaville and Maroochydore) supporting the SHINE Houses Project.                                                                                                                       
*To view activities of Zonta Clubs in our District: Please click here!