Who are we? The Zonta Club of Brisbane South Inc was chartered as a Club of Zonta International on 23 January 1979. The Brisbane South club mainly encompasses the southern suburbs of Brisbane and members come from suburbs between Highgate Hill to Ormeau, however we have a number of members outside of this area. The southern side of Brisbane River contains the Gallery of Modern Art, Southbank Parklands and the famous Gabba cricket and football grounds.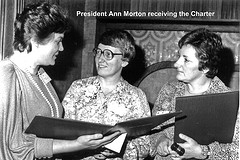 Our club membership made up of women from a diverse range of ages, experiences, professions and backgrounds. All members are committed to advancing the status of women through local fundraising, service and friendship. We financially support Zonta's international service projects. Over the years members of the Zonta Club of Brisbane South have supported numerous local organisations through fund raising activities and by giving of their time to hands on service activities.
Brisbane South meets on the second Wednesday of each month (except January) at the Queensland Cricketer's Club, Woolloongabba commencing at 6.00pm for fellowship (catching up and chatting) followed by a club meeting at 6:30pm and then dinner. If you would like to be invited to a Dinner Meeting please send an email with your contact details.
Club members are women in business and the professions, as required under the rules of Zonta International, with membership drawn from both the public and private sectors.
_______________________________________________________________
Intersted? Want to find out a little more? Join us for an information night.
Our information nights are held on the first Tuesday of every month at West End.  Please send an email for more information – we would love to meet you!
_______________________________________________________________
What do we do? Every year the club conducts planning sessions to formulate both our overall objectives and specific goals for the year ahead. This outlines what fundraising activities we want to be involved in and where the money raised will be directed in the coming year. See below for a summary of our recent activities.
We have launched a new club website
Click the link below to be redirected
To find out more about the activities of Zonta Clubs throughout District 22 Click here.