The Zonta Club of Brisbane Inc was chartered on 1 October 1971 as the first Zonta Club in Queensland. The Club has grown significantly since its inception and now has more than 50 members, including two Past International Presidents, Leneen Forde AC and Mary Magee OAM.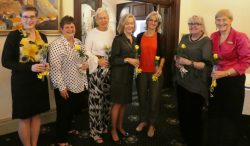 Club meetings are held at the United Service Club, Wickham Terrace, Brisbane, on the first Wednesday of each month at 6.30pm for a 7.00pm dinner meeting.
If you believe you can contribute to the status of women through the efforts of Zonta International, and if you feel you would like to join this group of dynamic, energetic and inspirational women, write to the Zonta Club of Brisbane, GPO Box 1768, Brisbane, Q., 4001.
To find out about the activities of other Zonta Clubs in our District Click here
What we do
In addition to supporting major international projects through the Zonta International Foundation, the Zonta Club of Brisbane supports a range of local service and advocacy projects, awards, and community-based initiatives. Our commitment varies from 'one off' donations for specific projects to ongoing assistance programs, all chosen by the vote of Club members and all reflecting Zonta's mission of improving the status of women.
Our Club activities fall under the headings of: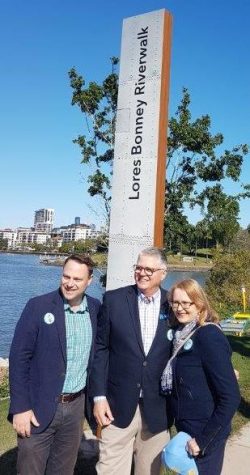 Award programs

Local service and advocacy projects

International service

Fundraising activities

Fellowship activities
---
HIGHLIGHTS: 
Advancement of Women Inaugural Award – applications close Monday 30 September 2019: read more.
Official opening of the Lores Bonney Riverwalk, Kingsford Smith Drive, Hamilton.
---
Award Programs
We have six ongoing award programs:
Advancement of Women Inaugural Award
Dr Helen Row Zonta International Memorial Prize
Babette Stephens Memorial Award
Zonta Woman of Achievement Award
Zonta Bursary for Australian Indigenous Women Students
Educational Awards
Advancement of Women Inaugural Award: This  non-gender specific Award became a reality in 2018/19 after a devoted long term Zontian and Charter Member of Zonta, Dr Joan Godfrey, made a wonderful living bequest to the Club which was then followed by further wonderful bequests made by two other club members in memory of their respective mothers.It recognises a person who, through their leadership, work or advocacy, is progressing the status of women by either creating new pathways, facilitating women's advancement along existing pathways or advancing the interests of women through other endeavours in social, community, economic, academic, political or work environments. The prize of $5000 will be awarded annually. 
Dr Helen Row Zonta International Memorial Prize: This prize is awarded annually to a researcher at The University of Queensland in the field of mental health in childhood and adosescence. It was established in 1992 in honour of Dr Helen Row, a Charter Member of the Zonta Club of Brisbane and a pioneer in the field of child psychiatry in Queensland. Dr Row made an exceptional practical contribution to the growth of Zonta in Queensland.
Babette Stephens Memorial Award: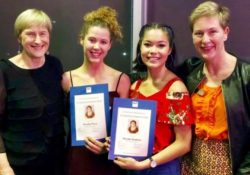 This Award was established in 2004 to honour the memory of the Club's Charter President, distinguished actress and Brisbane Theatre personality, Babette Stephens AM MBE, following her death in 2000. An annual award, it acknowledges and and rewards a talented second-year, female acting student at QUT. The award is administered by the Queensland University of Technology for the Zonta Club of Brisbane under guidelines set out in an MOU, and is funded from an annual theatre evening and from personal donations.
Zonta Women of Achievement Award: This biennial award recognises exceptional achievement by a Queensland woman and was set up to celebrate the Club's tenth birthday in 1981. The winner receives $1,000 and a statuette (valued at $1,500) by sculptor and former Club member, Catharina Hampson.
Zonta Bursary for Australian Indigenous Women Students: Originally a joint initiative of the Brisbane and Brisbane Breakfast Zonta Clubs, this Bursary provides $2,000 in financial support to each of two female indigenous students at the University of Queensland (UQ) each year. Winners are selected in collaboration with the Aboriginal and Torres Strait Islander Studies Unit at UQ. Applicants must have successfully completed at least one year of study towards a degree course.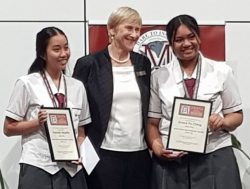 Educational Awards: Annually the Club provides a number of small bursaries to assist disadvantaged young female students through the Club's Educational Encouragement Awards and Z-TOPs (Zonta Tertiary Opportunities Program). Students are nominated by their schools on the basis of their promise and potential. The funds are managed by the educational institution and are used for fees, books or other essential item.
In addition, the Club supports Zonta International's awards programs by participating in the promotion of the awards, and encouraging and supporting local candidates.
---
Local Service and Advocacy Projects 
We currently have three local service projects: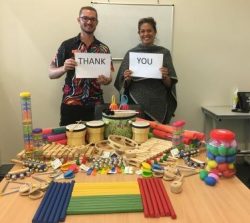 Cassandra Weddell Memorial Library in the Brisbane Women's Prison for children under the age of five who are staying in prison with their mothers;
Resources to support women and children escaping domestic violence;
Hands-on working bees, particularly the assembly of Birthing Kits each year for distribution to developing countries to reduce the incidence of deaths in childbirth.
International Service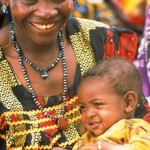 One third of the funds raised by the Club each year is sent to the Zonta International Foundation to fund international service projects and initiatives to combat violence against women, and to supplement the Foundation's awards. More information about the international projects can be found at www.zonta.org  and details of the educational awards can be found at the following websites:
---
Fundraising activities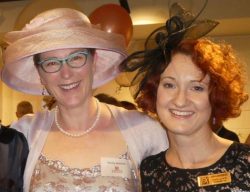 Our service contributions come from various fundraising activities that the club undertakes. Some are one-offs and others are tried-and-true events that have become an important part of the Club's fundraising calendar.
It's not all hard work! With a very diverse membership, the club has a wide variety of fellowship activities ranging from theatre evenings and gallery visits to the informal contact during hands-on service activities, and members form strong friendships with Zontians all over the world through Area Meetings, District Conferences, and International Conventions.
---
The last word…
Membership of Zonta enriches our lives, through our international commitments, through the work we do in our own communities, through the many generous and caring people we come into contact with. Above all, we are enriched by the wisdom, friendship and support of the women who make up the Zonta Club of Brisbane.