Zonta Shop
Zonta International Store
A range of Zonta products is also available for purchase from the Zonta International store. Note that you must be logged in to the Zonta International website to open this link. This is a separate process to registering for the District 22 website.
Zonta District 22
Our District 22 Board has HonZon badges for sale and a number of our Clubs sell various products as fundraising projects to meet their service commitments. Your support of Zonta through your purchase of these items is appreciated.
District 22 Club Products for Sale
Hon Zon Badges
Recognise the work and value of your HonZon through a specially created lapel pin in our Zonta colours. Send your order and cheque for the required number to Ros Kinder, 88A Blackwood Road, Manly West, Q., 4179 or contact your Area Director. Price: $6.00 per badge plus postage.
Zonta Breast Care Cushions
The Zonta Breast Care Cushions are not for sale. The cushions are made by Zontians and distributed to women who have undergone breast surgery as a service project. Distribution generally occurs through the hospital where the woman has had the surgery. If you have had breast surgery and not received such a cushion and would like one please forward your details by email Price: $0.00
Zonta pins and badges – Zonta District 23
District 23 carries stocks of official Zonta pins and badges on behalf of all Australian districts. The District 23 Board sell Zonta jewellery (President & Past President Pins) and a number of Clubs in District 23 also have products for sale. Details can be found on the District 23 website. Orders can be lodged by downloading the Attached Order Form or by email to cat773@bigpond.com
D23 Merchandise Order Form
District 22 Club Products
Zonta Says No T-Shirts
ZI has asked that, whatever activity Clubs are pursuing to promote this campaign that the same logo and colours are used to ensure a uniform impact. Last Biennium T-shirts were bulk ordered District 22. Whilst this opportunity is no longer available Clubs may order T-Shirts themselves by gong direct to the supplier – Brighter Ideas – Promotional Supplies.
The Shirts ordered previously were Mens and Ladies ICE TEE Orange with black lettering ice tee
Sizing: Shirts were available in the following sizes: ladies' – 6 to 24; men's – S, M, L XL, XXL, 3XL and 5XL. There is no size 4XL
To determine your size, lay your favourite T-shirt on the table, measure across the chest c. 2.5 cms below the arm, and match that measurement to the chart below.
| | | | | | | | | | | |
| --- | --- | --- | --- | --- | --- | --- | --- | --- | --- | --- |
| SIZE | 6 | 8 | 10 | 12 | 14 | 16 | 18 | 20 | 22 | 24 |
| CMS | 44 | 46 | 48 | 50 | 52.5 | 55 | 57.4 | 60 | 66.5 | 71 |
Zonta Says No Banners – Zonta Club of Caboolture Inc
Make a statement in your local area with these large Zonta Says No Banners. The Banner is 450 gsm vinyl, 1 metre X 4 metres and includes eyelets and ropes. Cost is $250 per banner. Further enquiries contact Sara Allard on 0439 866 682 or email the club caboolture@zontadistrict22.org
Zonta Says NO Caps – Zonta Cub of Caboolture inc
Stand out in the crowd wearing a Zonta Says NO bright orange cap. Only $10 each. Further enquiries contact Sara Allard on 0439 866 682 or email the club caboolture@zontadistrict22.org
Zonta Silk Eco Bags – Zonta Club of Rockhampton Inc
Zonta Eco silk bags are an ideal alternative to plastic bags. They are designed to fit supermarket racks and are strong enough to carry heavy groceries. They come in an attractive range of colours and are made from parachute silk. They are lightweight, compact and machine washable, are water resistant and convenient for fridge and freezer. They are handy for overseas travel, children's library books etc. They are priced at $7.50 ea (includes postage). Orders and Cheque can be posted to Zonta Club of Rockhampton Inc. P O Box 323, Rockhampton Q 4700. Allow two weeks for delivery.
Documentary DVD "Side by Side" – Zonta Club of Redcliffe Inc
Often when someone is diagnosed with breast cancer, everything happens so quickly they don't have time to catch their breath, and they rarely know what's going to happen to them or where to get support. This film is a roadmap to that support. It provides a very non-clinical, guided tour of the host of services, resources and people that are out there to help support the patient along their individual breast cancer journey.
"Side by Side" differs in that it comprehensively covers all stages of the breast cancer journey and doesn't just focus on one aspect of treatment," Jayne Coe (the Narrator) said.
The vidoe is available was produced by the Zonta Club of Redlife Inc and is available from the Club. An Order Form is attached or you can phone 0457 426 806
Handbag Hooks – Zonta Club of Brisbane South Inc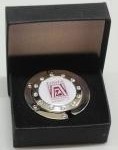 Promote Zonta and our District with an elegant handbag hook only $12 each plus postage. Presented in a lovely black box they make terrific gifts for your guest speakers or a wonderful keepsake for your use. Full details on the attached Flyer or contact Angela Yin on 0412 214 710
Zonta Handbag Hook Order Form and Payment Details
Travel Manicure Sets – Zonta Club of Brisbane East Inc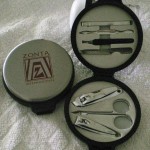 These compact manicure sets with Zonta logo engraved on front cover are available for $12 each from the Zonta Club of Brisbane East Inc. Great little gifts. For more info contact Ros Kinder on 0419 026 756.
Zonta Says No Aprons – Zonta Club of Brisbane Inc
The Zonta Club of Brisbane has produced 'Zonta says NO' aprons which are ideal for promoting the campaign at club events. The aprons are available for immediate purchase.
See attached for details, including photographs
Order Form – Zonta Says No – Aprons
Zonta Rose Cards – Zonta Club of Brisbane Inc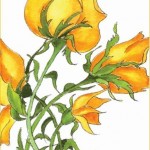 Beautiful and practical cards produced by the Zonta Club of Brisbane, featuring a painting of the Zonta rose by Club member, Liz Heber. $10 for a pack of 5 including matching yellow envelopes. To order, contact brisbane@zontadistrict22.org