30th Birthday Celebrations & Congrats to our Scholarship Winners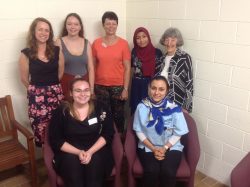 Our March Meeting each year is always a great meeting as we congratulate our scholarship winners from both Balmoral and Yeronga State High Schools.  We support each winner for three years post Grade 12 to encourage them to continue with their tertiary education.  Each year we are thrilled to meet them and hear of their studies and successes and 2019 was no different.  Each student has had exceptional results in their studies with those in their final year looking forward to commencing their career.  We congratulate each of them and look forward to hearing of their progress.
Our March 2019 meeting also gave us the chance to reflect on our 30 year post Charter and the Clubs achievements during this time – another great record and one of which we can all be proud. Out two remaining Charter Members Beverley and Denise helped President Lyn cut the magnificent cake from Valerie with Beverley again doing the honours with Jill who made the cake to cater for our members and guests requiring gluten free goodies.  Both cakes and the spread of food provided by all members was delicious and enjoyed by all.